FEATURED POST
Daytime vet reportedly leaving over contract negotiation stalemate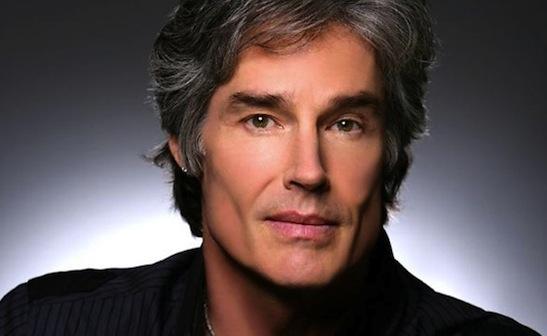 After news broke that original castmember Ronn Moss (Ridge) was leaving "The Bold and the Beautiful" after 25 years, soap fans took to social media sites to express support and disbelief. Moss answered back via Facebook and Twitter at around midnight on Monday, Aug. 13, confirming the exit, while sending a message of hope and gratitude to fans. 
Bing: More about "The Bold and the Beautiful" | Ronn Moss
"I want to make sure, without any doubt, that you guys all know how much I love you," Moss posted. "Your support during this time and hopefully beyond is everything. I can't say anything yet, but soon will explain. Hang in there with me. We have a wonderful new journey ahead of us. Try and not be sad, angry, disappointed. It's been a great run and all good things end eventually. As this door closes, others are opening. I want you all to come with me through these new doors of opportunities and experience how cool it's going to be. Have faith, be strong. Know I'm eternally yours."
Plus: Reality TV stars who need introductions | Summer TV guide
"Ronn has spent an amazing 25 years with 'B&B'," a rep for Bell Phillip confirmed for MSN TV. "We will always consider him family, and we wish him only the best in all of his future endeavors."
EW broke the story Aug. 11, reporting that Moss' last day at work will be Tuesday, Aug. 14, and that an inside source claims he is leaving instead of taking a pay cut.
The possibility of Moss' exit has raced some serious fan ire, across the globe. While "The Bold and the Beautiful" remains the number two soap in America, it's also an international juggernaut, boasting 26.2 million viewers worldwide. Cast members even require security details when they travel in countries like Australia and Italy.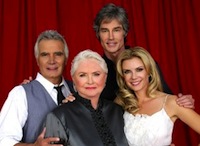 Fan fave Moss is an original "The Bold and the Beautiful" cast member, along with his onscreen family, Susan Flannery (Stephanie Forrester), John McCook (Eric Forrester) and Katherine Kelly Lang (Brooke Logan). Since the show premiered in 1987, the action has centered around the Forrester family business and Moss' character Ridge Forrester's love triangles with Brooke, Taylor (Hunter Tylo) and other leading ladies; Brooke's romances with his father, brother (Winsor Harmon) and other hunks; and Brooke's battles with Ridge's mother Stephanie.
Of late, however, the focus has shifted from the veterans to a new generation of love-crossed divas, with Brooke's daughter Hope (Kim Matula) and Ridge and Taylor's (Steffy) daughter vying for Bill Spencer's (Don Diamont) son Liam (Scott Clifton). The four original players are still in the action, but not as involved in powering story. EW suggests the pay cut reflects the general state of daytime, but this shift could also play a part, assuming that's even the reason for the exit. 
Moss' messages indicates there may be more at play than salary negotiations. Moss has parlayed his "Bold and the Beautiful" fame into a run on Italy's "Dancing with the Stars" and is also a musician. His band Player's most memorable song was the '80s hit "Baby, Come Back" and he's never stopped putting out music. Moss also recently launched a web talk show, "Ronn's Garage," in which he interviews and sometimes jams with artists, musicians, actors and models. 
It also bears mention that Moss' exit may not be a done deal, especially if salary was indeed an issue. Just ask the cast of "Modern Family," who were ready to walk out but then came to an agreement for the new season. "The Young and the Restless" vet Eric Braeden even gave an exit interview to MSN TV a few years ago, before re-signing with his show.
In this case, however, Moss seems ready to move on. When a fan tweeted that CBS was throwing away Ridge's history and that Moss was too important to let go, Moss stepped in for his network. 
"You're thinking tv show. I'm thinking my life," Moss tweeted. "Think not 'throwing away,' but rather embracing it and enjoying what there was."
"The Bold and the Beautiful" airs weekdays on CBS.