FEATURED POST
Actress says she's relieved the secret is finally out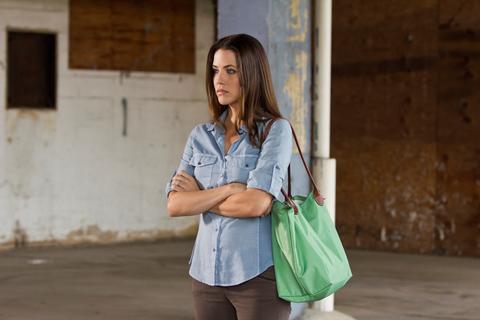 Spoiler: Don't read this if you haven't seen the "Dallas" finale and you want to be surprised by the ending.
Actress Julie Gonzalo, who plays Rebecca on TNT's rebooted nighttime soap "Dallas," said she has long known about the shocking secret 4.3 million viewers discovered during the show's season-one finale: Rebecca is Cliff Barnes' daughter! Dun dun! 
Bing: More on TNT's 'Dallas' | Julie Gonzalo
In true "Dallas" fashion, the twist was satisfying and unnerving because it means Christopher (Jesse Metcalfe) is both Rebecca's husband and her relative. Ewww!
"I am married to my first cousin," Gonzalo, 30, said during a Thursday teleconference, the morning after the finale. "Sure, not related by blood, but it is kind of weird."
Gonzalo said when she got the part of Rebecca, she learned she was Cliff's (Ken Kercheval) daughter but that's all she knew. At the same time, producers swore her to secrecy and not even her costars knew the truth.
Plus: The fate of your favorite shows | 2012 Primetime Emmy nominees
"It was fun when everyone got the script and they said 'You're a Barnes!'," Gonzalo said. "And I was like 'Ha ha! I knew.' I'm good at keeping secrets."
As far as season two, which begins shooting in mid-to-late September and debuts in January, Gonzalo said she doesn't know what's going to happen to Rebecca next. But Rebecca is still pregnant and married to and in love with Christopher. That's a problem now that he's with Elena (Jordana Brewster).
"I'm no longer Anakin, I'm Vader," Gonzalo said of her character, using a perfect "Star Wars" reference. "She is Cliff Barnes' daughter. She's the mastermind of everything. But at the end of the day, you realize, she's just trying to make her father proud just like John Ross and Christopher."
"Dallas" returns for a second season January 2013 on TNT.