FEATURED POST
The CW has a new doctor in the house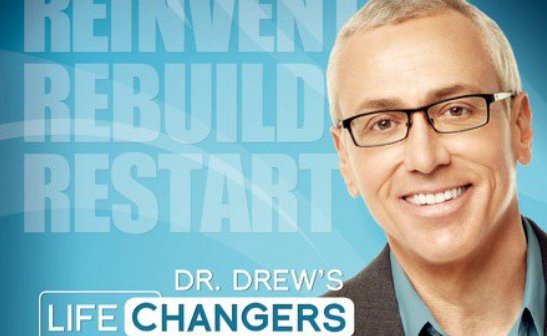 Dr. Drew Pinsky ("Celebrity Rehab," "16 and Pregnant," "Loveline") is coming to daytime this September. The new CW series "Dr. Drew's Lifechangers" jumps off from an "Extra" segment to create half-hour sessions with the good doctor and his experts, who promise to give viewers the tools to make things happen in their lives.

Bing: More about Dr. Drew Pinksy
"'Extra' was pulling together experts and now they're allowing me to pull in some of the people I want to work with, as well, to change people's lives, to make a change, to intervene," Dr. Drew Pinsky explained. "I can't do everything by myself. In my practice, I'm a primary caretaker. I know how to navigate the system, bring in the best and get people through it. That's what we're going to do."
The new talker will take on all sorts of change, from quick fixes to more dedicated efforts that take more than just an hour to effect. "The thing that I have been fascinated by so far is that, sometimes, relatively small changes in focused areas can make a huge change," he marveled. "[We have a] woman that had her teeth done. It changed who she was, changed the rest of her life. That, to me, has been a very pleasant surprise."
Topics covered range from losing weight to financial problems, and everything in between - including love. Dr. Drew will put 30 years of "Loveline" experience to work in his new "love Lab." "We'll have the best therapists. We'll have the best matchmakers. We'll have the best in every field trying to explode the paradigm and teach you how to live a better life, even a better dating life," creator and senior executive producer Lisa Gregorisch-Dempsey previewed.

With all these experts coming in, there will certainly be a celeb component, as well. It's hard to imagine a daytime talker or a Dr. Drew vehicle without that! Dr. Drew was quick to note, however, that he's interested in everyday people, too.

"One of the things that comes across my Twitter feed all time is, 'How come you don't just deal with regular folks? Why the celebrities?'" he admitted. "When we originally conceived of 'Celebrity Rehab,' I wanted regular people in with the celebrities, but it became increasingly clear that regular people can't really consent for that. They don't know what that feels like to be filmed when this kind of work is being done. So I'm very anxious that here we deal with mostly regular people."
Bing: More about "Celebrity Rehab"
Daytime already has a few doctors in the house, but Gregorisch-Dempsey doesn't see them as competition. "Dr. Oz does a great job, but I feel like those shows -- 'The Doctors,' 'Dr. Oz' -- are sort of narrow casting and more about health," she explained. "We have opened it up to lawyers, doctors, candlestick makers. It's every expert in every field. It's a little bit of a hybrid. There will be a lot of takeaway information: That's the magazine piece. And then there will be a lot of compelling stories: That's the talk piece -- which they do a little bit of, but I feel like, ad nauseam, they're just rapid fire, dressing up in clown suits, and Drew will never do that."
The new series will also reveal the man behind the doctor. "This is a show where I have a chance to bring myself and my family into it," he said. "My wife is going to participate in it, I've got 18-year-old triplets that are going off to college and my life is changing a lot right now. It's funny. I get in front of people; I get emotional. I'm going to tell that story of what it feels like to do something that a lot of people do, which is deal with sending kids off to college or ending one phase of life and entering another."
"Dr. Drew's Lifechangers'" airs weekdays at 3 p.m. ET/PT on The CW, beginning in September 19.