FEATURED POST
Were 'The Talk' recasts really about 'weird' chemistry?
Original "The Talk" co-hosts Sharon Osbourne, Sara Gilbert and Julie Chen made an appearance on the Howard Stern Radio Show Monday to promote their show, and the visit has everyone talking. The conversation got into the Stern's usual areas of interest, including anal sex, boob jobs and vagina-plasty; but the shock jock also got serious, calling the ladies out on the controversial exits of former co-hosts Holly Robinson Peete and Leah Remini.
Bing:
Watch clips and episodes of "The Talk"
Just before "The Talk" returned for a second season this September, rumors began swirling that the two co-hosts were out. As fans rallied around them,
Peete and Remini tweeted their confusion and then sadness
, and to this day, Peete claims she's not sure why she was ousted. Now, she might just have an idea ... or not.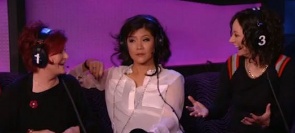 When Howard Stern had the remaining hosts on his Sirius radio show on Monday, he got right to the heart of the matter, asking Julie Chen about "being painted as the witch in this." He was referring to rumors that as the wife of CBS head honcho Les Moonves, Chen was the dominating hand that sent Peete and Remini packing. Before Chen, could answer, however, Gilbert stepped in on her behalf.
"She's definitely not the bad guy," Gilbert insisted. "This show is run by the studio, the network, an EP [executive producer], and that's where the creative decisions are coming from. These kinds of changes happen all the time on these shows… When people are blaming Julie, they're looking for a scapegoat."
Stern fired back that that sounded like a cover up, to which Osbourne cried, "Let's get real!"
So what did Osbourne get real abut? After a bit of a sidetrack, she revealed she likes the ousted co-hosts, but the chemistry while they were on the show was, "Weird! Weird!"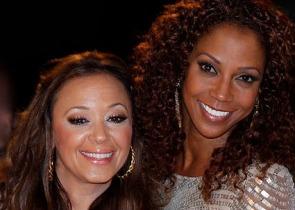 "Some people don't really know who they are," Osbourne said (at the start of the recording above). "You have to know who you are when you're in something like this. You can't pretend to be something you're not. You have to know your brand. You can't be all things to everyone. And the other thing is, I always say, 'I'm not running for public office. I don't care if people like me or not.'"     
Those are some seriously real insinuations! Osbourne clearly agreed with the decision to replace Peete and Remini and from the sound of it, so did Gilbert and Chen. They also made it clear they approve of the Season 2 additions, Sheryl Underwood and Aisha Tyler, but again insisted that neither they nor Moonves had anything to do with the shakeup.
Well, at least Peete and Remini have an idea now … Or do they? Less than a day later, the rumor mill is already gearing up with new insinuations and secret sources claiming it was all a cover up, after all. We may never know why Peete and Remini weren't invited back, but as Stern points out, things like this happen in this biz.
"The Talk" airs weekdays on CBS.