FEATURED POST
Emmy-winning actor will direct an episode of NBC's hit workplace comedy
There is more to Bryan Cranston than his Emmy-winning turn as Walter White on "Breaking Bad."
The star of AMC's beloved meth drama is also an accomplished director and will be bringing his behind-the-camera talents to the upcoming season of NBC's "The Office."
Bing: More on 'The Office' | Bryan Cranston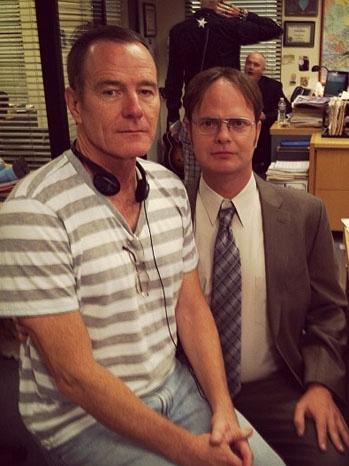 On Monday, Rainn Wilson aka Dwight Schrute tweeted "Free meth for The Office! (look who's directing ...)" along with a photo of him and Cranston. NBC later confirmed the gig is official.
Cranston, 56, is not new to directing. Credits include an installment of "Modern Family" last season as well as episodes of "Malcolm in the Middle." He also helmed a "Breaking Bad" episode that will air next year.
Plus: Sophomore slump-busters | 10 UK shows that crossed the pond
Jon Hamm, who directed for the first time during the fifth season of "Mad Men," has said Cranston inspired him to try his hand at the trade.
As for "The Office," which is entering its ninth and final season, Cranston is directing an episode called "Work Bus" that will air Oct. 18.
"The Office" returns Thursday, Sept. 20, at 9 p.m. ET/PT on NBC. "Breaking Bad" airs Sundays at 10 p.m. ET/PT on AMC.