FEATURED POST
We get up close and personal with the host about her September premiere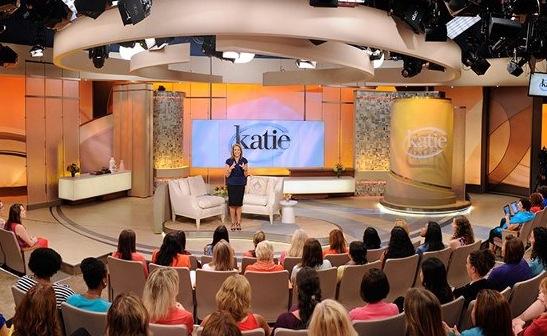 With Katie Couric's new talk show set to premiere Monday, Sept. 10, MSN TV got up close and personal with the host to see how things are coming together at "Katie." 
Bing: Katie Couric    
As previously reported, the former "Today" and "CBS Evening News" anchor said "Katie" was "still a work in progress" when she hit the TCA Press Tour July 26. During her panel, Couric revealed her plans to take on a variety of topics, from serious events like the recent Aurora shooting to lighter issues like dating in your 40s and 50s. She also talked about creating recurring franchise segments, including Women Who Should Be Famous and YOLO (You Only Live Once) adventures. 
The "Katie" guest list remains hush-hush, but Couric told the press she's invited the presidential candidates and Sarah Palin to her show, which will feature newsmakers, celebrities and everyday people. 
Here's what Couric had to say when MSN TV caught up with her after the panel. 
MSN TV: You've worked in every part of TV at this point.
Katie Couric: Not late night!
That's next, right? But you've done morning and evening news, and now you're moving to afternoon talk, which is considered a more personal medium. Are we going to get to know you even better?
"The Today Show" is a pretty good example of that, where I would give my perspective about things without [going overboard]. I just don't want it to be me, me, me. But I do want to be open. It's a fine line. For example, I don't mean to dwell on dating in your 40s and 50s -- this is the third time I've mentioned it today! -- but I might talk about my philosophy, my approach and how I've handled it, without talking about the date I had the night before.
What do your daughters have say about all this?
When I started at "The Today Show," I was pregnant with my oldest daughter Allie, who just turned 21. I would talk about them on the show. And one time, something got printed in some women's magazine. When my daughter was old enough to read it, she said, "Hey, cut it out. Stop talking about me." So I've always tried to be respectful of them and not divulge too much. They understand they may come up if we're talking about "inside the teenage brain." I might recount my experiences with my own 16-year-old daughter, who doesn't want to be in the same zip code as me. But in general, I try to be respectful, and we have a great relationship. They understand there are times when I naturally -- and only when it's natural -- reveal things that have happened to me, personally. But I try not to do it too much.
You've been popping up on ABC over the last year, and it's felt like the old Katie. Is there something there that makes you comfortable?
I did that Diamond Jubilee special with the Queen and was able to talk to William and Harry. They gave me room and permission to be who I was and do a show that was fun and relaxed and had some personality.
Is it better when there isn't all that pressure? With the attention you received at CBS, it seemed like anything you did was magnified.
I don't really pay attention to all that. I focus on the work and doing a good job.
Are you totally over the drama during your time with "CBS Evening News"?
I was sort of over that after the first year. I am glad I did it. It was a great experience for me. We did great work. We won tons of awards. We were considered the hardest news broadcast by people who evaluate such things. So I feel good about the work I did, and I did a pretty important interview while I was there, as well.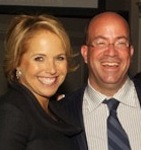 With "Katie," you have the opportunity to be involved in producing the show, along with Jeff Zucker. In what ways are you taking advantage of that?
In terms of editorial decisions? To be honest with you, I've always been very vocal and very involved in the content of any show I've worked on. I'm not the kind of "talent" that comes in and is handed a script. I was very involved in the editorial content of "The Today Show" and "CBS Evening News." This just gives me an opportunity to work with Jeff again and have input with him.
What about decisions that go beyond the editorial, like creating your new set?
It's exciting. Obviously I'm involved in every decision about the set, what I'm looking for, what I want. I also defer to people who have a lot of experience in this area. This is my first foray into a syndicated show, so I don't have all the answers. It's like starting a small business. It's like a TV start-up, in a way, so I'm very involved in every decision. And when I'm not, I let them know that I want to be.
What differences are you finding in syndication?

It's very liberating because you don't have a lot of network bureaucrats telling you can't do something.
How have you been preparing for the big premiere?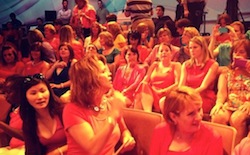 We're doing some test shows in August (see photo from Aug. 2 test on left), and I'll get a sense from that. I'm excited about that. Slightly trepidatious, but excited. As somebody who is interested in content, every day I think, "We should do a story on this" or "How could we do the Aurora store differently?" I'm constantly reading, and I've been visiting a lot of stations, because in this genre, you have to have a strong relationship with the local stations.
You're also currently hosting a weekly ABC News web series, "Katie's Take." How will "Katie" incorporate the Internet?
Social media is going to be a big part of the show because it makes the conversation broader and more inclusive. Talk about being connected to your audience! Social media allows you to hear what they have to say -- the good the bad and the ugly. Block! Also just to get their input and understand what they want to learn about if we have a specific guest. I'm obviously going to ask my Twitter followers if they have a question for those people or there's an issue. You can also now use social media to find great guests. I'm attracted to stories about ordinary people who have exhibited extraordinary personal courage. You're going to be seeing a lot of that on my show.
Several shows launched last year with an eye to filling the void left by Oprah Winfrey and faltered. What can you learn from their struggle?
I'm not a big fan of comparison shopping. I just want to do the best job and really be who I am and not be affected by other programs or the way they're doing it. I just want to try my best to do the best I can and let the chips fall where they may.
With the premiere date fast approaching, are you nervous?
I think I'm a little scared, which is good. If I weren't, I would worry!
"Katie" premieres Monday, Sept. 10, in syndication.