FEATURED POST
Who won't get a talk show?
By Deanna Barnert
Special to MSN TV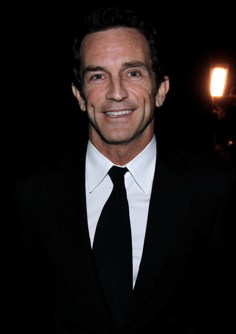 Much to the chagrin of soap lovers, daytime television will be flooded with talk shows by the end of 2012 and Jeff Probst is the newest talker throwing his mic into the daytime ring. The "Survivor" host is developing a new syndicated daytime talk show that aims to hit CBS in fall 2012, around the same time Katie Couric's new show will premiere on ABC. By then, Anderson Cooper's new FOX talker and ABC's "The Chew" and "The Revolution" will already be off and running.
Bing:
More about Jeff Probst
CBS Television Distribution has tapped Jeff Probst to develop his own syndicated daytime talk show, which will premiere Fall 2012. The new one-hour talker will cover topics ranging from daily news to people facing challenges -- in other words, it's CBS' answer to Katie Couric's upcoming ABC talker ... Or Anderson Cooper's upcoming FOX talker ... At the very least, Probst appears to be CBS' bid at landing the next Oprah Winfrey.
"I'm fascinated with human nature and thrilled that this show will allow me the opportunity to connect with real people and explore their stories on a personal level," Probst said in a statement. "As I continue with 'Survivor', I am excited to extend my relationship with CBS with this new adventure in the world of daytime."
Probst, who has served as stand-in host on Live with "Regis & Kelly," was considered a leading contender for Regis Philbin's seat when he retires. Instead, Probst is staying in Los Angeles -- when he's not gallivanting off to the next "Survivor" island -- and developing his own show.
It's not clear how he'll juggle hosting duties. Perhaps his talk show will invite celebs to the island?
However it works out, Probst's bosses at CBS Television Distribution are excited about the new talker. "Anyone who has seen Jeff on 'Survivor' knows how he connects with people, and has an instinct that makes him a natural and compelling host for daytime," said Aaron Meyerson, President of Programming and Development for CTD. "With the same adventure Jeff approaches his own life, the show will take the same path. Whether it's a
newsmaker-of-the-day​,
a celebrity or ordinary folks, Jeff will go further than typical discussion. The show will cover a range of topics from relationships to human interest. And like Jeff, the show will encourage action, change and discovery. We are very fortunate to have him."
Probst's new talk show aims to premiere fall 2012 and will meet quite a bit of competition when it joins "The Talk" in the CBS daytime lineup. Anderson Cooper's "Anderson" premieres on FOX this September 12, 2011, with info on his show available on his website and ABC has three new talk/lifestyle shows joining "The View." "The Chew," with hosts Mario Batali, Michael Symon, Carla Hall, Clinton Kelly and Daphne Oz, premieres this September 2011 and will air weekdays at 1 p.m. ET, with info coming on their site. "The Revolutions," with Tim Gunn, Harley Pasternak and Kimberley Locke, is set to air at 2 p.m. starting January 2012. Stay tuned for their official site.
Katie Couric's talker
will be the last to enter the ABC fray, premiering fall 2012 with an eye on the 3 p.m. time slot, which currently belongs to "General Hospital" in most markets.