FEATURED POST
The explosive drama continues after the Olympics
"Days of Our Lives" flies back into action Monday, Aug. 13, returning from its Olympic hiatus with a vengeance. With the 
new writing team
of Gary Tomlin and Christopher Whitesell leading the show out of the proverbial rubble, a Daysaster promo promises shocking betrayal and twists, surprising kisses and more. 
Bing: More about "Days of Our Lives" | The London 2012 Games
The video above says it all, but here are some key highlights from the action:
Sami and EJ kiss.
Jack saves Abigail from the elevator, but may not be able to save himself.
Gabi swears she never meant to hurt Mel. 
Nicole thanks Daniel for saving her baby.
Brady is wracked with guilty over not being by Madison's side when she needed him.
Sonny plants a kiss on Will, but doesn't get the response he'd anticipated.
"I used you," Ian sneers at Kate.  
Rafe cuffs Sami.
With EJ tied to a chair, Ian roars and pulls back a curtain to make a big reveal.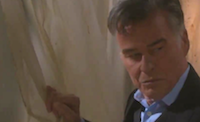 There's so much to say about the above, but first and foremost, one has to wonder if Ian's big reveal is the presumed dead Stefano. "Days of Our Lives" fans have had no doubt the Phoenix would rise again and now, About.com is reporting that portrayer Joseph Mascolo is already back at work. 
It also bares mention that it's not clear how quickly these explosive turns will play out. EW was first to get its hands on the promo and the intro said it kicks off "explosion month."
Luckily, MSN TV got its hands on teasers specifically for the week of Aug. 13, as well. On Monday, Sami will drop a doozy of an announcement on EJ and Will, while Friday promises the arrival of a hospital patient Melanie and Gabi are shocked to see. During the week, Ian pours his heart out to Madison, Chad finds Melanie in Brady's arms and Daniel tries to let Nicole down easy. Nicole will also seek counseling on Aug. 17, which doesn't bode well for her baby, in spite of the promo. The fall out will also bring Judi Evans (Adrienne) and Wally Kurth (Justin) back on canvas Aug. 15. 
"Days of Our Lives" Comings and Goings 
As previously reported, Madison (Sarah Brown) and Jack (Matthew Ashford) only get a few more days in town, sharing a final air date of Wednesday, Aug. 15. The promo suggests they may be dead, but committed fans will find it hard to believe Jack is gone for good. 
Ian Buchanan's Ian exits the canvas Aug. 22, while Molly Burnett's Melanie exits Sept. 27, so we know they're alive ... for now. Peter Reckel's Bo is also set to leave town in the fall. 
These shake ups leave room for the returns of Blake Berris's Nick in mid-September and Eileen Davidson's Kirsten on Oct. 20. 
Gay Brian (Brant Daugherty) and homophobe T (Brendan Coughlin) are also coming back into story week of Aug. 20. Freddie Smith (Sonny) recently teased it would be a "Sonny September," so expect a big story there. Some are anticipating something involving gay bashing, but others are just as sure Tad will come out as gay. 
Plus: Life after 'Friends' | Memorable TV roommates
Perhaps most exciting for soap fans and old school Salem fans, alike, is the buzz about "The Young and the Restless" and "General Hospital" alum Greg Vaughan coming to town in a top secret role. Many fan portals are confirming he's playing Sami's twin Eric, but the show isn't fessing up. Whether or not that's the case, word is Eric is indeed returning and fans can bet "Supernatural' star Jensen Ackles isn't reassuming the role. 
"Days of Our Lives" airs weekdays on NBC.