FEATURED POST
Date and episode titles leaked, then yanked, by studio publicity site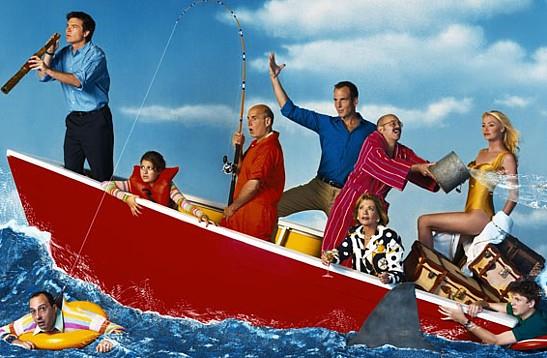 It sounds like a typical Gob Bluth magic trick gone wrong. Last week, FOX, the studio behind "Arrested Development," posted to its credentials-required​ publicity website the titles of Season 4's 14 new episodes, in addition to their simultaneous Netflix premiere date. Then it promptly removed its post.
Bing: More about 'Arrested Development'
 
Fortunately, a screen save was posted by the blog Oh No They Didn't. So now we know (we think) that each episode will take the name of the main character it follows. Michael Bluth (Jason Bateman), George Bluth Sr. (Jeffrey Tambor), Lindsay Fünke (Portia de Rossi), Gob (Will Arnett) and George Michael Bluth (Michael Cera) will each get two episodes, while one each will be devoted to Tobias Fünke (David Cross), Maeby Fünke (Alia Shawkat), Buster Bluth (Tony Hale) and Lucille Bluth (Jessica Walter).


Henry Winkler, Scott Baio, Liza Minnelli, Mae Whitman and Judy Greer will all reprise their roles from the first three seasons, according to Salon.
 
Plus: TV's best marriage proposals | Top TV missteps of 2012
"Arrested Development" received high critical praise but poor ratings when it aired for three seasons on FOX, which canceled it in 2006. The public finally caught up with its brilliance posthumously, via DVDs and Netflix. This April, Netflix announced it would produce 10 new episodes (which it has since upped to 14). Since all episodes will be released on May 4, and since many fans can be expected to watch in descending order of their favorite characters, it's reasonable to assume that the series will no longer unfold in episodic order; instead, telling more non-linear stories.


The new episodes could lead to either a movie adaptation or another Netflix season. But no one associated with the production is claiming this to be the last we'll see of the Bluths.
Update: According to the New York Post, a Netflix representative called the May 4 date "incorrect."


Season 4 of "Arrested Development" is expected to debut May 4 on Netflix.