FEATURED POST
Comedic actor talks about 'Community,' his guest role on 'Sons of Anarchy' and more
Joel McHale isn't a zombie or vampire. And sometimes he worries that, because of this, he's not cool enough.
Such exaggerated concerns are what make the 40-year-old star of NBC's beloved junior-college comedy, "Community," so funny. The show returns in October. But there's more to McHale than his sharp wit, which he also flexes on "The Soup" on E! Fans will find this out when the Seattle native guest stars on Season 5 of "Sons of Anarchy," which kicks off Tuesday on FX.
Bing: More on Joel McHale | NBC's 'Community' | 'The Soup' on E! | 'Sons of Anarchy'
The husband and father talked about season 4 of "Community" and his upcoming guest appearance on "Sons of Anarchy," a hit motorcycle drama of which McHale has long been a fan, at a Ford's Random Acts of Fusion event Thursday at Hollywood's the Residences at W.
Plus: 10 TV high school cliques we love | Fall TV premiere dates
MSN TV: What can you tell us about the fourth season of "Community"? Is it a different show without Dan Harmon?
Joel McHale: Well, I knew David Guarascio and Moses Port and they're great guys. I did a pilot with them once ("The IT Crowd") so I knew they were funny. It all came down to the scripts and the table reads and both have been great. And a lot of the writers came back for Season 4. There's dancing in Season 4. It's been great.
Are you worried about "Community" airing on Friday nights?
We're just thrilled to be back and I'm just glad we're on the air. There's stiff competition every night but who knows? Maybe we'll be OK. "Grimm" has done great on Friday nights. And I think the promotion is something like "If you love 'Community,' you'll love dudes in masks killing each other." The makeup on that show is very good as are the effects. It's extraordinary. And it's shot in Portland.
CBS is picking up Eddie Murphy's "Beverly Hills Cop" the TV series, and a lot of people are saying Donald Glover would be perfect to play his son. What do you think about that?
He'd be perfect. But he's on "Community" right now. So he can't do that. So, I'm sorry. And no, we can't spare him. I don't think NBC would allow it. I don't think he can. I think Eddie Murphy should do it. I could do it. I could totally play his son. We're casting my dad on the fourth season of "Community" and I've suggested Eddie Murphy.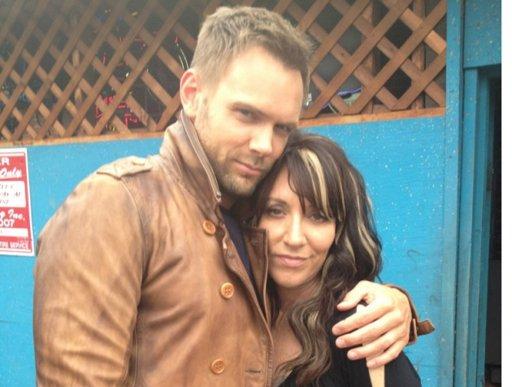 Tell us more about your guest starring role on "Sons of Anarchy." Is it fun playing a dramatic role?
I play a bad guy named Warren on two episodes. I am a bad conman  -- as if there are great ones. But I play not a good person. It was great. I got to shoot guns and crash cars and do all sorts of cool stuff. When anyone puts a gun full of blanks in it, I'm firing that thing off. I did. They gave me a gun and I was like "Blam!" People were like "Hey, fire in the hole." And I was like "Sorry, I was just too excited." That really happened.
Was it hard to juggle that with "Community"?
Nah. I shot it before "Community" started. It was really awesome. It was fun. I got to work with the whole gang. I'm not sure when my episodes are airing but they are an efficient machine. They came on "The Soup." That's how I got offered the role. Katey Sagal is amazing. She should win an Emmy. She is really good on that show. Really good. Like remarkable. She does not get enough credit. That's ridiculous. I can't name another show like that.
What about you? Shouldn't you be nominated for your work on "Community"?
Wait a minute. No, seriously. Look at something like "It's Always Sunny in Philadelphia." They deserve to be nominated and they haven't been.
Word on the street is all of your scenes are with Katey Sagal and Jimmy Smits. What was that like?
Jimmy Smits was awesome too. I had never worked with either one of them before other than Katey coming on "The Soup" and she was really funny. But yeah, she is a class act. I am fond of her. And Jimmy Smits? Come on? He smells good. He smells like freedom. I don't know what that means but that's what came into my nose.
"Sons of Anarchy" returns for a fifth season Tuesday, Sept. 11, at 10 p.m. ET/PT on FX. "The Soup" airs Wednesdays at 10 p.m. ET/PT on E! "Community" returns Friday, Oct. 19, at 8:30 p.m. ET/PT on NBC.