FEATURED POST
Post-Oscars special affirms his future dominance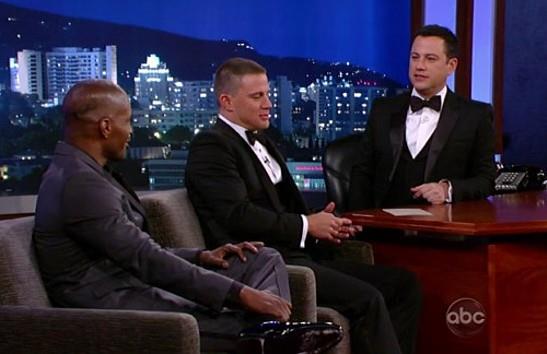 Jimmy Fallon may host the late-night NBC talk show abdicated long ago by David Letterman. But a different Jimmy stands in the actual on-deck circle. Whenever Letterman retires, and that shouldn't be too much longer, the host of "Jimmy Kimmel Live!" will move into his slot -- at least in the public's mind.


Bing: More on Jimmy Kimmel | "Jimmy Kimmel Live!"


Six weeks after ABC moved him to compete against Letterman and Jay Leno at 11:35 p.m., Jimmy Kimmel is only trailing Leno by 70,000 viewers in the coveted 18-49 demographic, according to the New York Post, while he's already beating Letterman by 13 percent.


His skills are undeniable, so I won't try to deny them. Kimmel is an hysterical host, a consummate blender of anti-establishment angst and self-deprecation with Johnny Carson's knack for how to make his guests shine.


But the dude does owe some of his success to random luck. For instance, had Leno and Conan O'Brien not had that showdown that sent O'Brien to TBS and two steps down the showbiz ladder, O'Brien would probably be in third place and generating much of the buzz now attributed to Kimmel.


Plus: Obituaries for shows ending in 2013 | TV's break-out stars


And Kimmel keeps getting A-listers for his Oscar specials. In reality, this is simply a benefit of taping across the street from the ceremony, where the A-listers are already gathered. (Last night, it was Jamie Foxx and Channing Tatum who entered Kimmel's set without having to bother their limo drivers.) But the public doesn't care about logistics. To them, these appearances validate Kimmel's Hollywood heat.


It could either be Fallon or O'Brien battling Kimmel in tomorrow's late-night wars. But it's Leno's shoes one of them will be filling, because Letterman's are already spoken for.


Do you think Jimmy Kimmel deserves to be the next David Letterman?


"Jimmy Kimmel Live!" airs weeknights at 11:35 p.m. ET/PT on ABC.