FEATURED POST
We run down the likely candidates to become Regis Philbin's permanent replacement
After months of speculation and test runs, "Live! With Kelly" has finally chosen Regis Philbin's replacement. Kelly Ripa and her new co-host aren't talking, however, until the new season kicks off. On Monday, Sept. 3, Ripa will host the show on her own for the first time. Then on Sept. 4, she'll take the stage with Seth Meyers, Josh Groban, Michael Strahan, Nick Lachey, Carrie Ann Inaba or one of the other 59 contenders who auditioned for the gig by tapping in as guest co-host.
Bing: More about 'Live! With Kelly' | Michael Strahan
Who will join Kelly Ripa on the "Live!" title has been the hottest question in daytime since Reege stepped down from "Live! With Regis and Kelly" back in November. By December, it was clear the rotation of celebrity co-hosts was helping ratings, so it's no surprise "Live! With Kelly" has decided to milk the surprise until the last possible moment.
Plus: Comedic actors who tackle drama | Successful TV spin-offs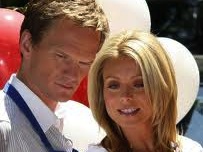 Early buzz positioned Ryan Seacrest and Neil Patrick Harris as favorites for the position. Seacrest has since confirmed himself a member of the NBC team. Harris, who could easily have landed and pulled off the job, already has a gig, and it's on the wrong coast: "How I Met Your Mother" shoots in Los Angeles.

Contenders Joel McHale and Chris Harrison are also both booked on west coast productions, while Bravo's Andy Cohen was another popular but completely unrealistic pick. Jerry O'Connell is also likely out due to his role on NBC's "Munsters" reboot, "Mockingbird Lane." Howie Mandel might be willing to leave his West Coast show behind, but MSN TV doesn't see him landing the gig. 
Some favorites, like Michael Bublé and Rob Lowe, seemed to simply fall out of the running over the last nine months, while co-hosts like Jimmy Kimmel, Katie Couric, Kevin Jonas and Matthew Morrison were clearly ratings ploys, not serious tryouts. 
Scoring the "Live!" Odds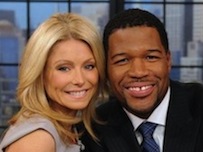 In early July, buzz pegged Seth Meyers, Josh Groban and Michael Strahan as the front-runners for the "Live!" gig. Those names still make sense, considering they've been regular co-hosts throughout the nine months of trials and have each recently landed extended stays next to Ripa.
But they aren't the only contenders to consider. Nick Lachey has been in heavy rotation of late, along with Bryant Gumbel. 
What's more, while most assume Ripa's new co-host will be a man, the new ABC release teasing the big reveal is painstakingly gender neutral. That means fans shouldn't count out "Dancing With the Stars" judge Carrie Ann Inaba. Kristin Chenoweth would also be a plausible choice, but we definitely wouldn't put our money on seeing contender Kim Kardashian take the permanent seat.
To be honest, MSN TV wouldn't put our money on seeing a woman or Ripa's husband, Mark Consuelos, take the position of permanent co-host, no matter the chemistry. Gumbel is another unlikely pick, since he isn't exactly fresh to the daytime scene, having spent 15 years on "Today."
The "Live!" Front-Runners
Michael Strahan is MSN TV's first round draft pick, based on both his energy on "Live! With Kelly" and his jock appeal. Daytime is certainly about the ladies, primarily, but it never hurts to do what you can to lure in the male viewers, as well, and an NFL stud turned football analyst could be the ticket.
As importantly, Strahan has great chemistry with Ripa and charms the pants off the audience. Or should we say, they charm the pants off him! (see clip above) He's got the goofy spunk morning shows require and isn't afraid to put it all on the line to keep the audience engaged. 
To top off his lead, Strahan just put his Hermosa Beach home on the market.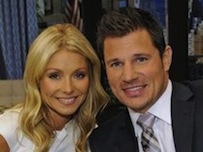 Nick Lachey would be another intriguing ratings pick, with his 98 Degrees and reality TV fan bases. Lachey actually co-hosted "Live!" the day news of the hire was announced and during the episode, Ripa asked him if he's planning to take paternity leave when his baby comes in September. This left many wondering: Paternity leave from what? Lachey is on the pre-taped reality show "Stars Earn Stripes," but that's about it.
Lachey responded that he does want to hang out with his baby. As mom Ripa can confirm, a gig at "Live!" could accommodate that. The New Dad title will also makes him a natural fit for daytime and the gig seems right up his alley. 
It bears mention, however, that Lachey is another west coaster, and there's always buzz about a 98 Degrees reunion tour. Also, his wife Vanessa has a hosting gig on ABC's "Wipeout," which shoots in California, but no word on whether she'll continue there after having their baby. 
Finally, while Seth Meyers and Josh Groban aren't our first picks, they can't be counted out, either. Clearly they were being tested for the long run and they made it work. Meyers is a proven funnyman and Groban is adorable, but MSN TV isn't sure either of them ever hit his morning stride. 
Of course, MSN TV didn't make the decision and who knows? "Live!" could shock fans with a less obvious choice - perhaps someone from within the ABC family, like Mike Greenberg or Sam Champion, or NY1's Pat Kiernan. 
Stay tuned for the big reveal in September.
"Live! With Kelly" airs weekdays in syndication.