FEATURED POST
Paula Abdul talks sex with Simon Cowell during the Louboutin and fishnet affair
Wendy Williams has been
getting wiggy all month
, but on Wednesday, May 23, she went all out to celebrate her 500th episode. "The Wendy Williams Show" host got dolled up, dished with Paula Abdul about having sex with Simon Cowell and boogied to a performance from the Trammps, featuring Earl Young. She also took a stroll down memory lane, as seen in the clip above.
Bing: More about "The Wendy Williams Show"

During the milestone episode, Williams shared a retrospective of guests, surprises and gaffs from the past 3 seasons. That included "The Soup" slams from Joel McHale, as well as several of her former guests trying to say her signature line, "How you doin'?" which she had said 2997 times on the show. This episode will have made 3000!

Also: What TV shows are returning next season?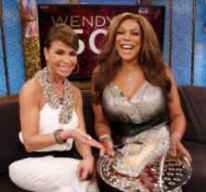 Williams was dressed to the nines, wearing a silver Yazhi sequined gown by Diane von Furstenberg, customized by Camilla Huey for House of Execution, with a black corset lace belt and honey fishnet tights by Wolford. She finished off the look with Fred Leighton 18K white gold and diamond chandelier earrings, a platinum flexible honeycomb bracelet, a platinum deco asscher cut diamond bracelet, a platinum diamond bracelet, an Edwardian diamond filigree pendant necklace and a platinum 12.9 carat cushion-cut diamond and calibre ruby ring.

Her black satin "BB" pumps by Manolo Blahnik, however, were quickly out-shined by Paula Abdul's gift. Williams' "dream guest" brought a sparkling pair of silver Yolanda Pot Pourri Specchio peep-toe Christian Louboutin heels, along with some juicy dish.

During their chat, Abdul talked her exit from "American Idol." (Was it the money? "Of course," Abdul said.) When she got into talking the "X Factor," it was clear she felt bad about her ousting, even though she understood why it happened. She claimed she's excited to see Britney Spears and Demi Lovato take a seat at the judges table and bring in that younger demographic.

Abdul insisted there's a difference between business and friendship, contending that she and Cowell are still friends. They just don't hang out together, and they never have. "It would never ever happen, because he's selfish," she said. "He'd be a selfish lover and he'd call his own name out during sex, if it ever happened."

Tune in to hear what Abdul has to say about her new younger man and marriage. Plus, don't miss the "Disco Inferno" preview above.

"Wendy Williams Show" airs weekdays in syndication and at midnight on BET.