FEATURED POST
A stream of guest co-hosts help viewership jump 12 percent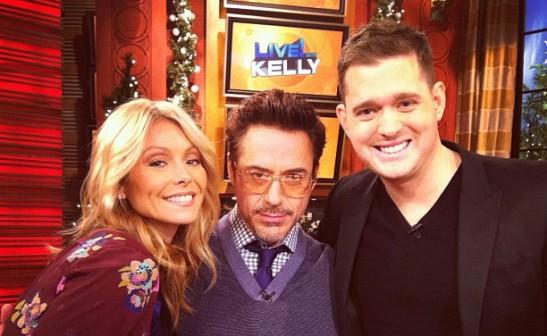 Kelly Ripa has called in some big names to fill in as "Live! With Kelly" guest co-host since
Regis Philbin retired from the show
he helped create 28 years ago, and it seems to be paying off. In spite of bad reports yesterday, ABC says the morning show's viewership has gone up 14 percent in daytime's core demographic of women 25-54.
Bing:
More about 'Live! With Kelly'
While gossip jock Perez Hilton and The New York Post reported a massive 35 percent ratings drop for "Live! with Kelly" since Regis Philbin's exit episodes, ABC says their numbers are off, but more importantly, they may be missing the bigger picture.
Yes, "Live" has lost the excitement ratings surrounding the exit of a daytime icon, which peaked at a whopping 9.45 million viewers for Philbin's final episode, but Ripa is not expected to measure up to those major event ratings, even with the help of weighty co-hosts like Neil Patrick Harris, Jerry Seinfeld, Andy Cohen, Josh Groban, Michael Buble, Jonah Hill and Kevin Jonas.
What more, when compared with last year's numbers in the same time period, "Live" is actually pulling ahead without Philbin, according to the New York Times and ABC. Ratings have climbed 14 percent among the coveted daytime audience of women ages 25 to 54 and 12 percent overall. 
In raw numbers, "Live!" boasted 3.93 million viewers for Nov. 21 to Dec. 11, compared with 2010's 3.5 million in the same four-week period. At the same time, the audience of women ages 25 to 54 rose to one million from last year's 878,000.
The real test, of course, will come when Ripa has a permanent host at her side. In the meantime, "Live! With Kelly" is doing just fine with a revolving door of hot guys and when the show returns with new episodes in January, Ripa has a host of jocks on the schedule. Football star and former Kim Kardashian beau Reggie Bush will serve as guest host on Monday, Jan. 9, followed by Carl Edwards and Apolo Anton Ohno.
"Live! With Kelly" airs weekdays in syndication.