FEATURED POST
The 'Men in Black III' star seizes audience nostalgia, creates PR magic on BBC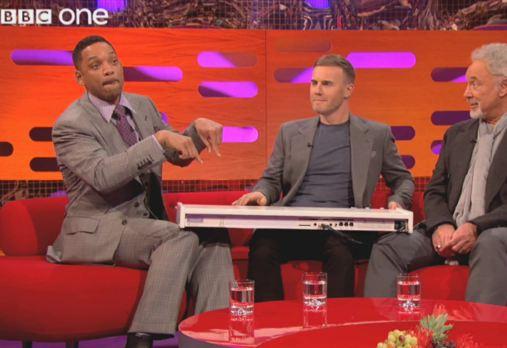 Only Will Smith could be criticized for

slapping an overseas reporter

one minute and then have fans swooning over a televised rap-along the next. But, alas, that's just the sort of crisis-defying charm that get sprinkled like fairy dust from the 43-year-old actor's debonairly graying goatee. 

 

 

While stopping by BBC's

"The Graham Norton Show"

this past weekend, the artist formerly known as

DJ Jazzy Jeff

's MC du jour guaranteed "Men in Black III" millions in global ticket sales by taking advantage of a golden viral-marketing opportunity. Namely, being a good sport and rapping every word of his "Fresh Prince of Bel-Air" theme in real-time with the studio audience. 




Bing: More on Will Smith

 |

"Men in Black III"

 |

"Fresh Prince of Bel-Air"




The most endearing, unscripted moment arrives when fellow "Norton" guest and UK pop artist

Gary Barlow

 joins in and performs the song's signature synth melody, and Smith drops his composure and guffaws (and, naturally, fist-pounds with Barlow) in disbelief. And while the movie mega-star hasn't had to rely on his rhyming chops in nearly two decades, it's hard to deny that he's still got cadence and charisma. Damn him.