FEATURED POST
The 'Days of our Lives' reboot brings Bo and Hope back to familiar territory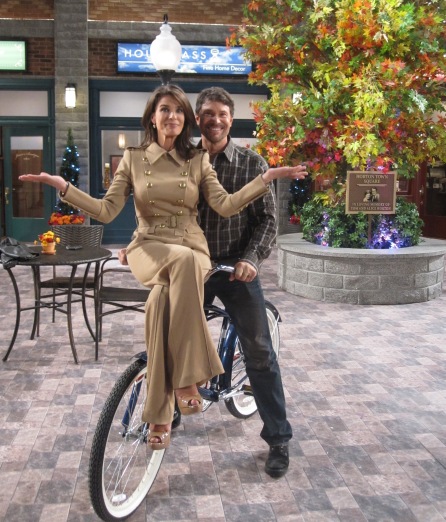 MSN TV got on set at "Days of our Lives" to scope out the brand new Horton Town Square set, which won't air until Wednesday, Sept. 26. We posted a video of Deidre Hall and Drake Hogestyn back together again right away, but now we can share pics of the set itself. Even better, while we were taking pics, Peter Reckell and Kristian Alfonso rode over to talk about the Salem reboot. Here's what they had to say:

Bing: Watch clips and full episodes of 'Days of our Lives'
MSN TV: This is some new set! The big Horton Town Square opening ceremony will lure back some favorite characters and also set off serious drama on Sept. 26, but after that, the new hang is bound to turn into gossip central. 
Peter Reckell: Isn't it crazy fun? It's so fun to work on. We'll be able to pop the walls out and do all kinds of stuff.
Kristian Alfonso: We can ride bikes here -- that was Peter's idea -- and who knows, maybe I'll open a Hope Faith Miracles jewelry shop in one of these store fronts.
The big Salem reboot is all the talk these days, but where will it put Bo and Hope, who never left town and have been through the ringer the last few years?
Reckell: Back in our comfort zone.
Alfonso: But back in the thick of it.
Reckell: They've got a lot of stuff to work out, as a couple, because of the last couple of years. Us working together helps bring them closer together.
Bing: More on "Days of Our Lives"

How does it feel to be back in that "comfort zone," after a few years of wild stories, including Hope's drug-induced second personality?

Alfonso: It's not so much "the comfort zone." I have to say I disagree with his words.

Reckell: You're not understanding what I mean by it: The show is back to meaning what we want it to mean. It's about romance, family and community. That's what we're used to and what we want to the show to be.

Alfonso: Yes! We're back to doing what we love doing, and what we started doing.

Reckell: Our comfort zone.

Alfonso: Bo-Hope. Hope-Bo. This is the Kristian-Peter show. This is us (laughs)!
It's funny you say that, because fans on Twitter wanted to know how you two stay close and keep from killing each other, after almost 30 years working together.

Reckell: We work hard. We go home to our families.

Alfonso: Yes. And we love what we do. We feel passionate and blessed to walk through those doors every day, and even more now, because the story is absolutely amazing.
Reckell: And it brings in a lot of history. People who watched the show 25 to 30 years ago and haven't watched, if they turn the show back on now, so they can catch up before [the big shift September 23], they will see stuff that we're involved in that will pull them back in.
Alfonso: What I am crazy for is that something is going on with everyone, and everyone's characters are woven into other storylines. It's not just groupings of actors: The Kiriakises here, the DiMeras here, the Bradys, Bo and Hope trying to make it better... Everyone is involved and it's exciting. People were tweeting me that they saw the promo [a few weeks back] and were so excited. What they also said, which is exciting to me, is they have not watched the show in years and they were coming back, because they were excited, it was familiar and it was the show that they loved. Now imagine that, and let's raise the bar.
Bo and Hope are back to being cops. Will they be able to keep the peace as the family feuds pick back up?
Reckell: That's the interesting part of that: We're a Horton, a Kiriakis and a Brady. That will make it so interesting for the audience again, because we'll have these storylines where our roles as law keeper and family members wrap into each other.
What has it been like to have Deidre Hall (Marlena), Drake Hogestyn (John), Matthew Ashford (Jack), Christie Clark (Carrie) and Patrick Muldoon (Austin) back in Salem?
Alfonso: Oh, my gosh. It's like old home week. It's like nothing has changed.
Reckell: It's a family reunion.
When you started hearing people were coming back, which return got you the most excited?
Alfonso: I can't pick favorite! I have to say everyone who's returned, and I was very sad to see the people who left leave.
Reckell:  I think it's Drake, because I just love listening to his stories.
Alfonso: My first vision of Drake, seriously: He's walking down the hall and I'm at the other end, so excited. Like a school girl. I see him looking at the photos as he's walking and he gets this little smile on his face and he's like, "I'm home." I was like, "Welcome home!" It was so thrilling.
What will surprise fans about the reboot?
Reckell:  I don't think it will surprise to fans so much as comfort them. It's, "Oh, it just feels good to be watch 'Days of our Lives'!" What they saw back in the '80s, '90s or '70s will come back to them, but with even more energy, mystery and romance.
Alfonso: It's all about relationships, family.
"Days of Our Lives" airs weekdays on NBC.