FEATURED POST
Cast member hints that Elisabeth Moss, aka Peggy Olson, may be gone for good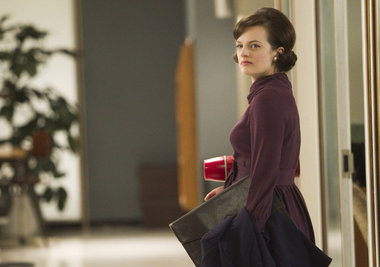 Elisabeth Moss has come a long way since those
pesky Excedrin commercials
that continue awkwardly airing despite her present-day fame on "Mad Men." Likewise, her character on the show, Peggy Olson, has made remarkable strides during her journey from mousy secretary to in-demand copywriter. So perhaps for both actress and alter-ego, it was time to move on.
Jared Harris, who
(spoiler!)
up until last week played Sterling Cooper Draper Pryce partner/bookkeeper Lane Pryce, intimated to 
the Daily
that Olson's recent departure from her fictional advertising firm could mirror Moss' real-life "Mad Men" exit.
While discussing his own sendoff, Harris commented that there was no big goodbyes among cast and crew because, "You know, we're always ending things. Actors are always ending jobs. It isn't a big deal in that sense." It gets interesting when he goes on to add that, "Other people had left the show that had been there since the beginning. Elisabeth [Moss] left the episode before and she'd been there since the beginning.
Michael Gladis
left in Season 3.... People leave and it's just part of it." He also alludes to the mid-series departure of
Bryan Batt
, aka closeted art director Sal Romano.
When pressed about whether that implied Moss was eminently parting ways, Harris hurriedly covered his tracks, clarifying "I have no idea what Matthew Weiner intends to do and even then I couldn't tell you."
But it sure would seem that, just as ace female copywriter Olson slipped through the front doors of her ad agency, Harris may have let the gossip cat out of its bag. Hopefully, for Peggy's legion of fans (us included), his insights have only scratched the surface of truth.
The Season 5 finale of "Mad Men" airs Sunday, June 10, at 10 p.m. ET/PT on AMC.