FEATURED POST
Veteran actors will play Jess' parents on the Turkey Day episode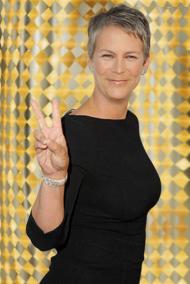 It's fun meeting people's parents and learning where they get their looks and personalities.
Fans of FOX's romantic comedy, "New Girl," will learn how Jess (Zooey Deschanel) became Jess when veteran comedy actors Jamie Lee Curtis and Rob Reiner guest star as her divorced parents on the show's Thanksgiving installment.
Bing: More on 'New Girl'  | Jamie Lee Curtis  | Rob Reiner
Hilarity will ensue when Jess tries to reunite the two "Parent Trap" style, minus a twin sibling, reports EW.com.
Plus: TV shows that will be ending | Not-so-normal TV families
Rob Riggle will also guest star on the Turkey Day episode as Schmidt's (Max Greenfield) cousin.
Other "New Girl" guest stars this season include Niecy Nash ("Reno 911"), David Walton ("Perfect Couples" and "Bent") and Josh Gad ("Love and Other Drugs"). Nash will appear as a prostitute who steals Jess' purse while Walton and Gad play two of Jess' romantic suitors.
Meanwhile, Parker Posey ("Louie" and "The House of Yes") will guest as a "shot girl" Schmidt hires to work at the party celebrating his penis-cast removal in the season-two opener and Carla Gugino ("Political Animals" and "Spy Kids") will play his boss/paramour in a multiple-episode story arc.
"New Girl" returns Tuesday, Sept. 25, at 8 and 9 p.m. ET/PT on FOX.