FEATURED POST
'No Reservations' star attacks old network bosses for misleading Cadillac endorsement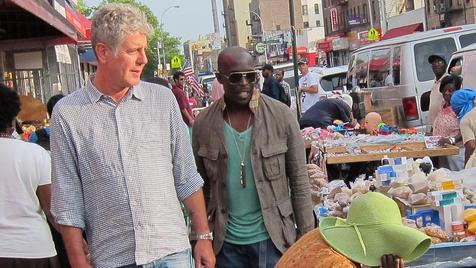 Anthony Bourdain is mad as hell, and he's not going to take it anymore.
The 56-year-old native New Yorker and bon vivant is enraged because his old network bosses at the Travel Channel spliced together footage in the final two episodes of "Anthony Bourdain: No Reservations" to make it look like he was endorsing Cadillac without his consent.
Bing: More on 'Anthony Bourdain: No Reservations' | Anthony Bourdain
Bourdain, whose show came to an end Nov. 5, first reacted viscerally on Twitter and then wrote a more eloquent post about his disappointment in the Travel Channel on Tumblr, in a piece entitled "Fighting Mad." Bourdain's new shows on CNN and ABC debut next year.
Plus: Old shows we'd like to bring back | Shows that should be canceled
In the Tumblr piece, Bourdain wrote that, while he understands how hard it is for advertisers in the DVR age, he went out of his way to avoid product endorsements on "No Reservations" after being burned in the past.
"A while back, I agreed to use a credit card on a limited number of episodes of my show," Bourdain posted. "The network made money off the deal. It helped assure me and my production company the budget we wanted. And I got paid.
"My fans were not pleased, however. Not at all. The backlash was considerable and angry. People felt betrayed. As a result, I became even more careful and even more reluctant to do them."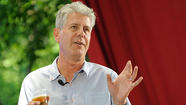 The celebrity chef also swears that he has no problem with Cadillacs or the people who make them but he is upset about being deceived.
"I had made sure, in my agreement with Travel Channel, to include very specific language about this kind of thing," he wrote. "We had both agreed to terms where my name or image was never to be used to either endorse, or imply use of a product without my specific agreement.
"So it came as a shock and a disappointment to turn on the TV for the last two episodes of my show, and see that someone had taken footage that me and my creative team had shot for my show, cut it up and edited it together with scenes of a new Cadillac driving through the forest," he explained. "Scenes of me, my face, and with my voice, were edited in such a way as to suggest that I might be driving that Cadillac."
Such words are better than Bourdain's initial tweets where he all but called Travel Channel execs crooks. "When a #travelchannel exec runs over a hobo in a #Cadillac, I'm told they can barely tell! #goodsuspension" and "Wow! I can fit TWO bodies in full rigor in the trunk (of) a #Cadillac ! Awesome! #travelchannel"
Meanwhile, the Travel Channel has said in a statement that, "We've enjoyed a long and mutually beneficial relationship with Tony and his production team, but his decision to make further remarks on this matter in the public domain is unfortunate."
But Bourdain isn't just stopping with social media. Now, his lawyers are getting involved.
"I CAN do something when my name and image (such as they are) are used to sell a product without my consent and in violation of prior specific and well crafted legal agreements," he penned. "And I intend to."
"Parts Unknown" debuts on CNN in 2013. "The Taste" debuts on ABC in 2013 as well.