FEATURED POST
The man who first breathed life into the iconic '60s vampire Barnabas has died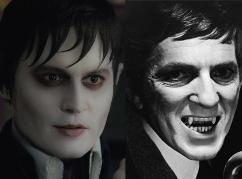 With Tim Burton's "Dark Shadows" set to premiere on the big screen in May, the actor who played the original Barnabas Collins, Jonathan Frid, has passed. The 87-year-old star of the Gothic '60s soap opera died Friday, April 13, and Johnny Depp, who is both a fan and the new Barnabas, has spoken out.

Bing: More about Jonathan Frid | Johnny Depp | "Dark Shadows"
"Jonathan Frid was the reason I used to run home from school to watch Dark Shadows,'" Depp said in a statement. "His elegance and grace was an inspiration then and will continue to remain one forever more.
"When I had the honor to finally meet him, as he so generously passed the torch of Barnabas to me, he was as elegant and magical as I had always imagined. My deepest condolences to his family and friends. The world has lost a true original."
Frid's "Dark Shadows" costar Kathryn Leigh Scott also spoke out about his passing. She and Frid make cameos in the upcoming big screen remake, sharing the screen with Depp when Barnabas hits a party. For soap fans everywhere, it seems like a fitting final appearance for Frid, who trained at Yale School of Drama and the Royal Academy of Dramatic Art in London and embraced his status as a campy cult icon.

Frid was remembered by family and friends on April 18, which happened to be the 45th Anniversary of his first appearance on "Dark Shadows."

As is often the case with popular soap opera heroes and villains, Barnabas was intended to be a short term character when he came onto the "Dark Shadows" scene, but quickly turned into a fan fave. The tortured and sympathetic vamp didn't just become the central character, but his popularity also saved the series from cancellation.
More: Parallel Universe on MSN TV
Want more TV? Be sure to like MSN TV on Facebook and follow MSN TV Twitter.