FEATURED POST
Former 'Friday Night Lights' star says new gig involves 'animals and biting'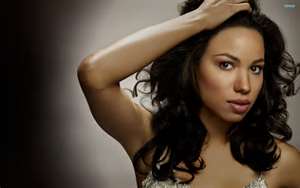 Jurnee Smollett-Bell is joining the cast of "True Blood," but there's not much she can say beyond that.
The 26-year-old actress, who is best known for roles on "Friday Night Lights" and "The Defenders," told the Huffington Post she's excited about the role and gave a taste of what fans can expect.
Bing: More on 'True Blood' | Jurnee Smollett-Bell 
"My character Nicole is a young woman. She's an activist who comes to Louisiana to help with the cause," she said. "I can't say too much but there's some animals and some biting involved."
Plus: Have reality shows run out of celebs? | Relatable TV women
Season 6 is full of new faces. In addition to Smollett-Bell, the list of new cast members includes screen veteran Rutger Hauer, British actor Robert Kazinsky, and Amelia Rose Blaire of "90210" fame.
Season 6 of "True Blood" premieres in June on HBO.