FEATURED POST
The First Lady talks about her first kiss, her marriage and family
First Lady Michelle Obama visits "Steve Harvey" on Wednesday, Oct. 3, but the talk show sit-down is not about politics. Obama taps in for a surprise segment of "Ask Steve and The First Lady" and then opens up about how she and the President met, their 20-year marriage and their family today.
Bing: More about Steve Harvey | Michelle Obama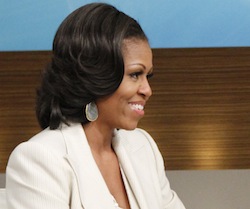 Obama told Harvey that her presidential hubby didn't miss a beat when they met. 
"He was a first year law student when I was a first year associate," she said. "So he was hired as one of the star interns for the summer. And I was there to greet him, to give him his assignments, and then he was hitting on me…"
The First Lady also recalled how her "smooth" husband landed his first kiss.
"I remember it clearly," she said. "We came from some function and he was like, 'You wanna go get ice cream?' He also used to work at Baskin-Robbins. That was one of his first jobs as a teenager, scooping ice cream at Baskin Robbins. So we went, got some ice cream - chocolate's my favorite - and we sat on the curb and we just talked. And we were talking, eating and laughing and he leaned over and asked me if he could he kiss me… and I said 'Yes!'"
Plus: Geeking out on TV title sequences | TV women who need to be saved | 11 of TV's scariest series
Since Harvey's daytime show tends to focus on family issues, he asked how the President and First Lady are handling the topic of dating with their daughters.
"We talk about everything all the time," Obama said. "My oldest daughter is a talker. So anything that is on her mind comes out. So we talk about a whole range of things. She's not there yet. She's 14. She's a freshman in high school. But there are boys around. I keep telling her father, 'They exist - they live and breathe.'"
"Yeah but, I mean, come on, who is the boy that rings the White House doorbell?" Harvey shot back. 
Tune in Wednesday to find out what Harvey thinks the first lady should give President Obama for their big 20th anniversary.
"Steve Harvey" airs weekdays in syndication.