FEATURED POST
ABC's new talker doesn't measure up to canceled soap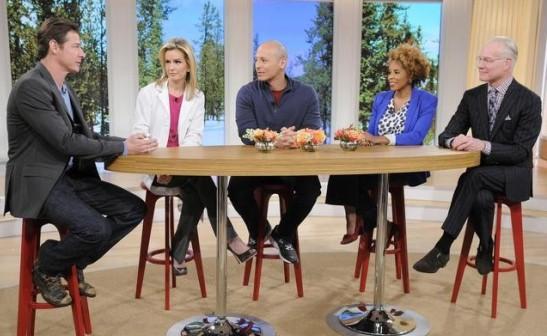 A recent rating report for ABC's new talk show
"The Revolution"
has soap opera fans doing a happy dance, while singing the song, "I told you so." The talker lured in half the viewership "One Life to Live" boasted at the same time last January, with the numbers falling. It's clearly not good news for ABC, but could be good news for "General Hospital" fans. Truth be told, however, it likely too soon to tell how the talker will fare.
Bing:
Watch episodes and clips of "The Revolution"
Case in point, with more time to build an audience, sister show "The Chew" came in only 16 percent below "All My Children" total viewer numbers from last year (2.65 to 2.23 million). That shows growth for the talker, in spite of the backlash it's faced.
Neither ABC talk show, however, is measuring up to "The Talk." While that CBS talker isn't a massive hit either, it has seen viewership steadily grow since "All My Children" and then "One Life to Live" went dark. Not a good sign for ABC.
Soap fans are hoping the labored numbers spell good news for "General Hospital," which
lost it's time slot to Katie Couric's talk show
, premiering this fall. But again, it's too soon to tell.
Stay tuned to see how this talk show battle plays out, and be warned: September's boom will make it a whole new game, with
Ricki Lake
,
Steve Harvey
,
Marie Osmond
,
"Survivor" host Jeff Probst
,
Trisha Goddard
and possibly
Bethenny Frankel
entering the playing filed.
For those who enjoy the details, here's a breakdown on some key numbers from the last week of January, which was week three for "The Revolution."
"One Life to Live" – Week of 1/24/11
Viewers: 2.85 million, Women 25-54: 1.4/ 8, Women 18-49: 1.0/ 6, Women 18-34: 0.6/ 3

"The Revolution" – Week of 1/23/12
Viewers: 1.44 million, Women 25-54: 0.7/ 4, Women 18-49: 0.5/ 3, Women 18-34: 0.3/ 2

"The Revolution" and "The Chew" versus "The Talk" on CBS
-Total Viewers:
"The Talk": 2.31 million, "The Chew": 2.23, "The Revolution": 1.44

-Women 25-54:
"The Talk": 1.1/ 7, "The Chew": 1.0/ 6, "The Revolution": 0.7/ 4

-Women 18-49:
"The Talk": 0.9/ 6, "The Chew": 0.8/ 5, "The Revolution": 0.5/ 3

-Women 18-34:
"The Talk": 0.6/ 4, "The Chew": 0.5/ 4, "The Revolution": 0.3/ 2

"The Revolution" decline:
Week of 01/16/12
Total Viewers: 1.68 million, Women 25-54: 0.8/ 4, Women 18-49: 0.6/ 3, Women 18-34: 0.3/ 2

Week of 01/30/12
Total Viewers: 1.44 million, Women 25-54: 0.7/ 4, Women 18-49: 0.5/ 3, Women 18-34: 0.3/ 2

Percent Change:
Total Viewers: -14, Women 25-54: -12, Women 18-49: -17, Women 18-34: no change

                                                                                         - source