FEATURED POST
Reports: Toby and Kelly to follow Dwight and Robert out the door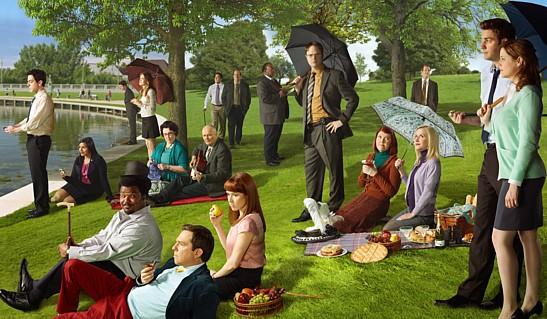 If "The Office" returns for a ninth season -- and that's apparently a big if -- NBC's number-one-rated sitcom will be short-staffed on familiar regulars.

According to the Hollywood Reporter, Paul Lieberstein -- who currently heads the writing staff, produces and co-stars in the show as submissive HR director Toby Flanderson -- wants to leave the series to join "The Farm" as co-creator. This is the widely reported NBC spin-off that, if successful, will transplant Rainn Wilson's cantankerous Dwight Schrute from "The Office" to the Schrute family bed, breakfast and beet farm. (A test run for the series is expected as an "Office" episode later this season.)

Bing: More about 'The Office' | Video: Full episodes and clips of 'The Office'

The latest news comes two months after FOX green-lighted a pilot from Mindy Kaling, a reportedly "Bridget Jones-esque" comedy which -- if picked up -- would probably spell the end for her Kelly Kapoor character.
Unfortunately, the potential downsizing goes deeper. Veteran and integral cast members John Krasinski (Jim Halpert) and  Jenna Fisher (Pam Halpert) have yet to extend their contracts past this season. Neither has Ed Helms, whose Andy Bernard character slipped into the irreplaceable district-managing shoes of Michael Scott when Steve Carrell split at the end of Season 7. (One thing Helms has signed himself on for, however, is the role of potential love interest on Kaling's pilot, which will reportedly also star "Saturday Night Live" funnyman Bill Hader.)
Finally, James Spader -- who joined "The Office" as the district manager this season -- has already announced that he will not return for a second.
The only obvious plug for this potentially massive casting hole is Ricky Gervais, co-creator of "The Office" and progenitor of the Michael Scott character in his sitcom's earlier British incarnation. But there is no apparent interest there. According to this New York Times report, Gervais tweeted on Thursday, March 22: "I can't do this AND take over as archbishop." (The tweet has apparently since been deleted.)


Would any of you stay tuned for an "Office" anchored by Kevin, Stanley and Ryan?


"The Office" airs Thursdays at 9 p.m. ET/PT on NBC.