FEATURED POST
Season 5 details seep out on Russell's return and Tara's recovery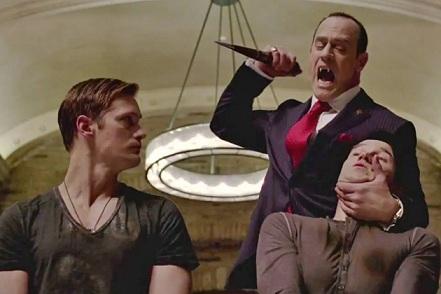 Is it just us, or is the above image from Season 5 of "True Blood" especially hilarious if you imagine that

Chris Meloni

is merely about to sneeze? Either way, fans are sure to be tickled now that the cast has slowly coughed up more details on what's in store come the June 10 premiere.




Bing: More on "True Blood"




E! has cobbled

together some interesting insights from

Denis O'Hare

, who plays newly resurrected vampire king Russell Edgington, and

Rutina Wesley

, better known as Sookie's woe-begotten BFF (and source of many viewers' exhaustion) Tara. 




While the below, just-released trailer indicates that Eric's mentee Pam or another familiar character may have set Russell free from his cement burial, O'Hare tells E! that, "It's somebody who nobody knows yet. It's a surprising character. And I think you get a hint in episode two, and then a big hint in episode five." Oh, Denis, you sneaky devil.




And then there's poor Tara, who may or may not be dead, even though such terms are relative in the foggy swamps of Bon Temps. Wesley assures audiences (for better or worse) that, "[I'm] definitely coming back, just can't tell you quite how," adding, "She kind of becomes a new woman. The journey she's about to embark on is out of control." Hmmmm.... Especially if it's a sexy vampire journey? Or perhaps just your garden-variety triumph over odds and obstacles. Either way, color us interested, so long as there's an outside chance

Franklin Mott

and his amazing silk pajamas make a cameo as well.

Season 5 of "True Blood" premieres June 10 at 9 p.m. ET/PT on HBO.