FEATURED POST
Former 'Charmed' star will play a young Cora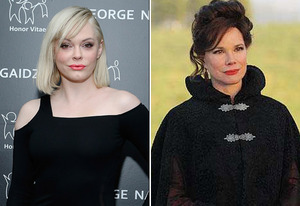 Few may have noticed it before, but Rose McGowan really does look like Barbara Hershey, 64. Just take a gander at those cheekbones and pouts.
Obviously, that's why casting directors picked McGowan, 39, to play a younger version of Hershey's "Once Upon a Time" character, Cora.
Bing: More on 'Once Upon a Time'  | Barbara Hershey | Rose McGowan
McGowan will play Cora in an episode that will explore the evil witch's back story, Deadline reports. As fans know, Cora is Regina's (Lana Parrilla) wicked mom and the reason Regina is so mean and vengeful. 
Plus: Best and worst TV shows of 2012 | Most memorable TV moments of 2012
Best known for her "Charmed" role, McGowan has been making a few TV appearances here and there as of late. Last year, she starred in the Lifetime made-for-TV movie, "The Pastor's Wife."
"Once Upon a Time" returns Sunday, Jan. 6, at 8 p.m. ET/PT on ABC.