FEATURED POST
An abrupt ending on ABC promises a new beginning on the Internet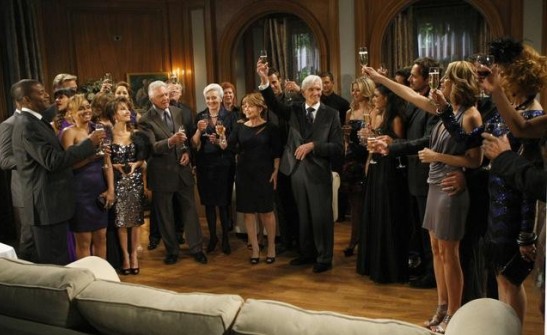 Across the nation Friday, "All My Children" fans huddled in front of their TV sets, tissue boxes in hand, for the final broadcast episode from Pine Valley. Daytime TV is a business, no doubt, but to viewers, this was an emotional goodbye. That's why some found the finale cliffhanger an abrupt and unfair end to the soap's 41-year run on ABC, but to others it felt, instead, like a final promise that Prospect Park will indeed resurrect the show on the internet in 2012.
Bing: More about Prospect Park and 'All My Children'
The soap opera genre took another big hit earlier this year when ABC announced it was canceling "All My Children" and "One Life to Live." When the latter concludes in January, only four soaps will remain on television: ABC's "General Hospital," CBS's "The Young and the Restless" and "The Bold and the Beautiful" and NBC's "Days of our Lives."
These endings, however, reflect more than just sad goodbyes, thanks to Prospect Park. The production company stepped in this summer, buying the rights to "All My Children" and "One Life to Live" with a plan to resurrect them on the internet.
It's been an uphill battle transitioning to the internet, but headway is being made. Cameron Mathison (Ryan) and Lindsay Hartley (Cara) have signed on to join "All My Children" on the net, and word is Alicia Minshew (Kendall) is still in talks.
Producers haven't, however, been able to an agreement with daytime superstar Susan Lucci, who has ruled Pine Valley as Erica Kane since January 5, 1970, the day the show premiered. Jacob Young (J.R.) and Debbie Morgan (Angie) have also been lost, both snapped up by CBS shows.
Sister show "One Life to Live" is also making strides. Prospect Park has landed exec producer Frank Valentini and stars "Erika Slezak (Victoria), Ted King (Tomas), Michael Easton (John) and Kassie DePaiva (Blair) are also on board.
With both ABC shows set to return from the proverbial dead on the internet, "All My Children" embraced that infamous soap gimmick with full gusto as it closed its run on ABC. Dr. David Hayward (Vincent Irizarry) literally resurrected beloved characters, bringing back faves like Zack (Thorsten Kaye), Leo (Josh Duhamel) and finally, Stuart (David Canary).
Not all of them survived, but those who did can now stay on canvas when the show relaunches, and there's still one more return to come. Yes, one of those dastardly cliff hangers. Hayward has one more mysterious patient on the precipice of life.
With all these wild returns, "All My Children" finale week gave us several warm reunions, proposals and happy endings, respite with family portraits and montages, while sending J.R. in a downward spiral around them. The conflicted child of Adam Chandler (David Canary) and Dixie Martin (Cady McClain) finally embraced the villain inside him, and his final struggle kept the show true to form, instead letting it get lost in the happy endings.
Amid all the smiles, there was also fresh tension between Eric and Jackson (Walt Willey). After years of patience, he finally walked out on her in front of everyone, throwing out a Rhett Butler inspired, "Frankly, Erica I don't give a damn what you need."
Erica ran after him, begging him to come to Hollywood with her…  And then Pine Valley's run on ABC ended with a gun shut. Instead of the "Who shot J.R.?" of the "Dallas" days, the next few months will have daytime fans dying to know: "Who did J.R. shoot?"
As they say in the biz, stay tuned…