FEATURED POST
Disney Channel develops sequel to the long-running '90s hit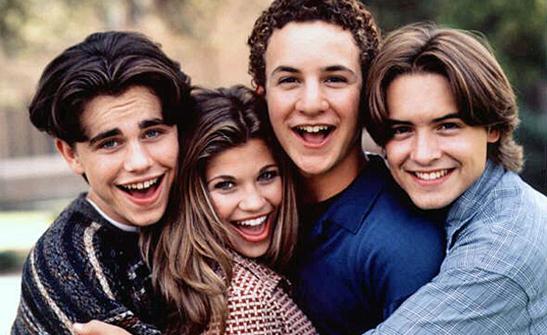 For a show that ran seven seasons strong, the '90s hit "Boy Meets World" didn't get a whole lot of respect back in the day. 

But if a reboot is the sincerest form of flattery, then it sure is basking in it now.
Deadline.com reports
that the Disney Channel is developing a spin-off of the ABC comedy, which ran from 1993 to 2000, set to center on the pre-teen daughter of
teen-sweethearts-tur​ned-young-marrieds
Cory Matthews (Ben Savage) and Topanga Lawrence (Danielle Fishel). The network has already reached out to original cast members Ben Savage and Danielle Fishel  to reprise their roles, this time as 30-something parents. No word yet on whether any of the rest of the cast would also revisit their roles. 
Since the show wrapped, Savage, now 32, has completed a political science degree at Stanford before returning to the small screen for guest stints on "Bones," "Chuck" and "Without a Trace." Fishel, 31, has hosted the Style Network's "The Dish," and
MSN's own "Last Night on TV."
Similarly, CBS is developing a
"Brady Bunch" spin-off
-- with Vince Vaughn's production company and Lloyd Schwartz, the son of "Brady" creator Sherwood Schwartz, producing and Mike Mariano ("Raising Hope") writing -- that centers on Bobby Brady as a single dad with his own kids who weds a single mom with her own. Sound familiar? CBS is banking on it.