FEATURED POST
Diana DeGarmo and Ace Young team up for love and music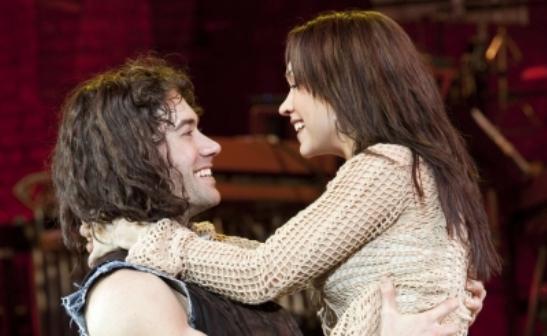 "American Idol" alum Diana DeGarmo has been tearing up the screen as divalicious Jersey girl Angelina on "The Young and the Restless." The crazy Genoa City songstress is about to get her big break, with a song written by DeGarmo and her real life beau Ace Young.
Bing:
More about "The Young and the Restless"
|
Diana DeGarmo and Ace Young
Two seasons of "American Idol" have come together to find love in the real world, thanks to time sharing the stage in Broadway's "Hair" (pictured above). Ace Young and DeGarmo are living together and in love, and they're also working together. Now, the couple, who created a music production company called "All Access," has a song set to premiere on "The Young and the Restless." There's been no talk, however, of bringing Young on canvas, as of yet.
The track "Good Goodbye," which is being touted as a heart-wrenching country ballad, will be revealed over several episodes featuring Angelina's breakout performance, starting on Friday, Mar. 23.
Fans of the soap can imagine the song has to do with Angelina getting real about her crazy machinations involving Kevin. With Angelina set to be taken seriously for her music, however, one has to wonder if "The Young and the Restless" will go down the rocking storyline road, ala Michael Damian's Danny Romalotti in the '80s and 90s.
Stay tuned.
"The Young and the Restless" airs weekdays on CBS.