FEATURED POST
'New Girl' star spills on the new season, why Nick and Jess are still not getting together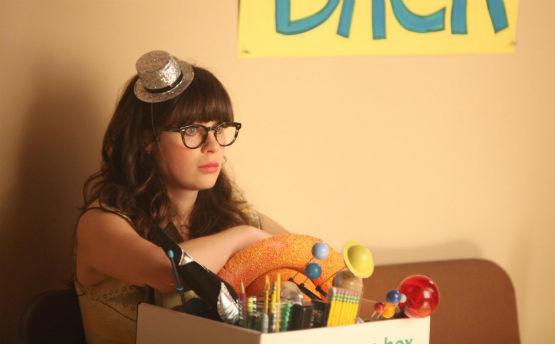 FOX offers up a double dose of "New Girl" this week -- the second-season premiere Tuesday night at 8 p.m. ET/PT, followed by another new episode at 9 p.m. So, we caught up with star Zooey Deschanel to chat about her character's continuing dramas. She spills on Jess' job hunt, who'll be playing her parents in that very special Thanksgiving episode and, of course, whether Jess and Nick will finally get together.
Bing: More on Zooey Deschanel | More on 'New Girl'
MSN TV: Given the premise of the show, we have to ask: Any crazy roommate stories?
Zooey Deschanel: I never had funny roommates really. I've always had a lot of guy friends, so I love the camaraderie between Jess and the guys. So it's nice to have. I have a lot of girlfriends, too, but I think it's important to have guy friends because it sort of provides a different perspective. I really like that relationship.
The interesting thing is that it's so platonic. But then, there's that chemistry between Nick and Jess. Will we see that play out anytime soon?
There's no danger of that happening. They're not getting together anytime soon. I think that they're not ready for each other, and nobody is going to push them together. I think Nick and Jess have a great chemistry, and I work really well with Jake Johnson. I think it's nice the sort of love-hate-but love relationship they have. They're not going to throw them together or anything soon. They might tease it out.
Plus: Shows that are ending | Fall TV's familiar faces | Fall TV premiere dates
Things get real in the beginning of the episode as Jess loses her teaching job. 
She's been looking for a job for a little while, and so they're throwing out different jobs. It definitely affects her life pretty deeply, because this is something she's wanted to do her entire life and she considered teaching to be her calling. So, it definitely is a blow to her. But I like how Jess is sort of open to new things. Although she's upset about it, she throws herself into to trying to find a new job and is pretty positive about things, which is a quality I like in the character.
So word is that Jamie Lee Curtis and Rob Reiner are swinging by this season as Jess' parents.
I'm really excited, you know. I heard at the beginning of the season that we had talked about maybe having Jess' parents come in last year, but it didn't happen. Then, this year, before even the season started, we talked about the fact that they were going to introduce Jess' parents in the Thanksgiving episode. So, we talked about a bunch of people, and these were just beyond my wildest dreams. They're people that I think would be just so perfect. I can't wait to start shooting with them.
Speaking of guest stars, you're guest starring as yourself on "The Simpsons" season premiere this Sunday.
Yes, I've been a huge fan of the show since I was like 10-years old. And it's really exciting. I did an episode four years ago or something -- four or five years ago. And it was really fun then. But I had to record it. I was working in Philadelphia, and I had to record it out there.  So, I didn't get to see all the people read or record with any of the actors. So this time, I got to record with Nancy Cartwright and Yeardley Smith. And that was really exciting. I got to sing some songs, and I actually got to write two songs for them. So one for this episode and one for the next, I'm on. That was super exciting.  I don't know: It was kind of dream come true.  It's been an amazing experience, and I'm a huge fan of everyone over there. It's been nothing but fun.
"New Girl" premieres Tuesday, Sept. 25, at 8 p.m. ET/PT, followed by another all new episode at 9 p.m., on FOX.