FEATURED POST
Milestone promises big action and the start of a new era
The 10,000th episode of "The Young and the Restless" aired Thursday, Sept. 27, bringing Victor Newman home and kicking off a whole new era on the show. Thursday's milestone episode marked showrunner Maria Arena Bell's final episode. Then the new regime headed by Executive Producer Jill Farren Phelps and head writer Josh Griffith steps in, with Oct. 12 being Griffith's first full episode.
Bing: More about 'The Young and the Restless'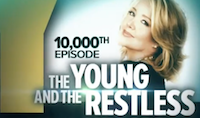 "Like every good soap opera story, I did get 'killed-off,'" Arena Bell quipped at the Paley Center for Media's celebration of the milestone in August. "I wrote a total of about 1600 episodes of 'Y&R,' and I wrote the 10,000th episode. And when you see the 10,000th, it is very much about what the core of this show. It's not a big party episode. It's an episode that tells a lot of driving story, that also peaks a very important story, and has ramifications and fallout for … the main characters. That is how I really felt comfortable going out. Leaving on a very strong show and having had a great run here."
The big peak in story is the return of Victor Newman. When the benchmark episode was being taped on Aug. 21, the storyline at the time had Victor MIA and Sharon assuming control of Newman Enterprises. MSN TV was on set for the cupcake celebration and made a beeline for portrayers Eric Braeden (Victor) and then Sharon Case (Sharon). The "newlyweds" had very different expectations for the impending showdown. And now, fans will find out exactly how Victor's return will play out.
Plus: TV's best sidekicks | 11 of the scariest TV series of all time
"I think the audience will be very entertained and excited by what we have planned," Griffith recently told TV Guide. "One of my goals is to zero in on the core characters and core families and rein in the storytelling so it does not require the kind of widespread canvas 'Y&R' has had over the last few years. You can't get into really meaty, juicy, rich storytelling when you have to cover so much ground and serve so many characters. We also came in with a budgetary mandate from Sony and really had to tighten the belt. We looked at the characters that didn't have long-reaching history and connection to the heart of the show and made the tough call to cut them loose so we can focus on the core.
"I understand the characters on this show. I understand the history," he added. "I know who will give us the most bang for our buck. It's my job to figure out what has kept 'Y&R' No. 1 for so many years, and which characters and actors have been responsible for that."

Those "The Young and the Restless" casting cuts included Genie Francis (Genevieve), Debbi Morgan (Harmony), Marcy Rylan (Abby) and Jennifer Landon (Heather), but Griffith said the show has "put away the ax for a while."
Christel Khalil, meanwhile, has managed to get past her stalemate in negotiations and will be sticking around. Lauralee Bell (Christine Blair) and Michael Damian (Danny) are back in town for the momentous episode and a few weeks beyond, and Jess Walton's Jill will return to work with -- or against! -- Mrs. C. "Hollywood Heights" alumni Robert Adamson and Hunter Haley King have assumed the roles of Noah and Summer Newman, respectively, while Cooper Harris (ex-Lila) has joined the cast, but it's not clear how significant her role will be. 
"The Young and the Restless" is still looking to cast a hot African American lead, according to Griffith's interview, and also hopes to build the "Latino element," which hasn't been seen in Genoa City since Raul Guittierez (David Lago) left the canvas in 2004, though he did return for a few months in 2009.
It's going to be a whole new day in Genoa City Friday, Sept. 28, but not exactly. Stay tuned to see how Griffith and Phelps work this return to the core characters.
"The Young and the Restless" airs weekdays on CBS.