FEATURED POST
The honorable NFL pro and 'Dancing With the Stars' finalist presiding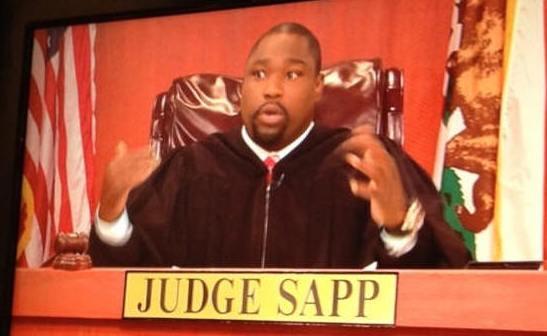 Warren Sapp has done his time as an NFL player, NFL Network analyst and even "Dancing With the Stars" contestant. Now, word is he's ready to compete on the same field as daytime queen "Judge Judy." Sapp has indeed donned a robe for "The Judge Sapp Show." Closer inspection, however, reveals he is not a daytime contender ... yet?

Bing: More about Warren Sapp | Judge Judy

"In my chambers deliberating!!" Sapp tweeted April 29, along with the above image.


Word of his new project started to spread after an aspiring actor got wind of his legal efforts. Media Rantz did some digging and found proof that the bankrupt NFL analyst, who is embroiled in his own legal issues, picked up a gavel for tapings on April 27 and April 29.

"As a studio audience member, you will be watching and reacting to court cases as presiding Judge Warren Sapp decides who is right and wrong," explained the Onset Productions listing for Sapp's paid audience in Glendale, CA.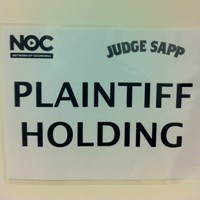 There are also more tweets to back up the claim. "Warren Sapp was my judge 2day #LightsCameraAction,​" tweeted Heidi Monroe-Blanco, along with an image of her "Judge Sapp" plaintiff holding room sign (right).

Then there's Jamie Hall's Instagram pic, coupled with the tweet, "Break time with the ladies on Judge Sapp's Show!"

There's even an early version proof of the show's title animation floating around, with the explanation, "'Judge Sapp' is an irreverent, sports-themed version of 'The People's Court'."
Clearly, "The Judge Sapp Show" is coming together, but closer inspection reveals the judge is coming to the Internet, not daytime TV.

The "Plaintiff Holding" sign boasts the logo for NOC (Network of Champions), a YouTube entertainment channel about athletes. "We bring you the world's most famous sports stars saying and doing the unexpected each week," the channel description touts. "Check out new athlete lifestyle, music, and comedy content daily, and help us build a revolution in sports."
If Sapp scores on the Internet, he could find a way back to TV. But for the time being, "Judge Judy" has the daytime bench covered, along with her competitors Judge Toler of "Divorce Court" and "Judge Alex."

"Judge Judy," "Divorce Court" and "Judge Alex" air weekdays in syndication.