FEATURED POST
Former President talks driving, Bin Laden's death and Hillary's state secrets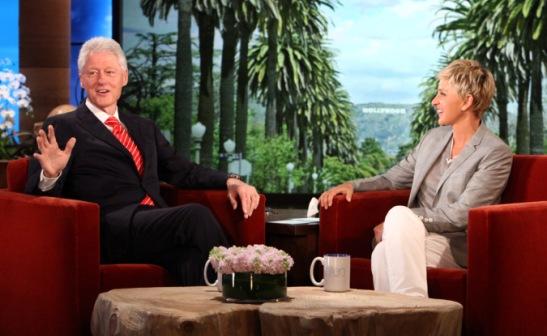 Bill Clinton visited "The Ellen Show" on Thursday, May 3. The former President and Ellen DeGeneres talked big issues like Bin Laden and what never comes up in pillow talk with Hillary, as well as more personal matters, like what he misses about being a regular Joe.
Bing: More about "The Ellen Show" | Bill Clinton


You may be sick of your daily commute, but it turns out driving is the one thing Bill Clinton wishes he could still do. "If I want to give up Secret Service protection for life I could do it," he admitted. "That's why … whenever I'm on the golf course, I always make them let me drive the golf cart."
Clinton also covered more serious matters, like the Chinese wall between him and Secretary of State Hillary Clinton. Apparently, the two never talk top secret business. In fact, Clinton does his best to stay out of the loop, entirely, unless he's called upon.
Also: TV's game changers
"In general if a former President asks for it on a daily basis, you can get a briefing from the CIA called a Presidents Daily Brief," he explained to DeGeneres. "You can get an attenuated version of that. When she got named to that position I said, 'Look, I don't want any more briefings, unless the President or the National Security Council, the White House people want me to have it.' Because I give too many talks.  I do too much work. I never want to inadvertently say something that complicates their job."
The Secretary of State didn't even tell her husband about Bin Laden's capture. "I didn't know about it until they told me," he swore. "She never said a word."
During his visit, DeGeneres also presented Clinton with a one-of-kind self portrait. Considering how goofy these two are known for getting, it should be a doozy. Tune into "The Ellen Show" for the full interview. 
"The Ellen Show" airs weekdays in syndication.