FEATURED POST
The two actors and BFFs reportedly sign on for first season of upcoming anthology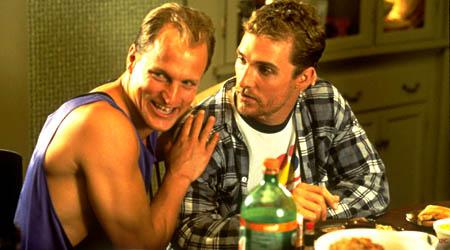 Most close friends over 40 are lucky if they get to see each other in between day-job shifts, raising families and catching nominal amounts of rest. Fortunately for Woody Harrelson and Matthew McConaughey, they're working actors, which means once in a while, they get to abandon their worldly concerns and spend half a year playing make-believe with one another.
Deadline
is reporting that McConelson (or Harrelghey, whichever you prefer) will star in an upcoming anthology called "True Detective," penned by Southern noir author and sometime
"The Killing"
scribe
Nic Pizzolatto
 (he penned last season's divisive finale). As you may have presumed, "Detective" would pair the duo as gumshoes trying to unravel a nearly 20-year-old crime in steamy Louisiana. OK, that last detail may not have been so obvious.
Bing:
More on "True Detective"
 |
Woody Harrelson
 |
Matthew McConaughey
A la
"American Horror Story,"
the series will refresh each year with new storylines and characters. Unlike that FX hit, "True Detective" is not yet attached to a network. Although, as Deadline points out, both Harrelson and McConaughey have appeared recently in HBO productions (
"Game Change"
and
"Eastbound & Down,"
respectively), leading one to think Home Box Office might have an edge. But hey, who knows? With
Oprah Winfrey
's virgin station struggling as it is, maybe OWN will get in the market for male-drive, violent psycho-drama.