FEATURED POST
Viewers alerted to a tragedy that didn't occur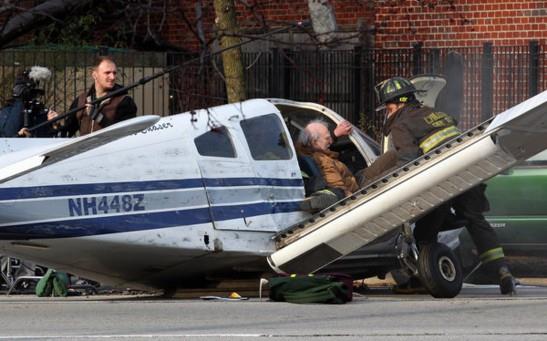 Chicago's WGN-TV was the very first local news station to report a plane crash last Friday morning on a South Side street. It was also the only one, since the crash was part of a "Chicago Fire" set.

Bing: More about 'Chicago Fire'

Anchors Robin Baumgarten and Larry Potash spoke for 90 seconds as footage from a news helicopter showed a downed small plane, a debris field, a hole in the road and a broken plane wing sitting atop a smashed car. About 20 production trailers were on hand, but so were police cars, an ambulance, fire trucks and a crowd of onlookers.

Also: Canceled and renewed TV shows | Memorable TV moments of 2012
"Man, can you imagine, you're driving down King Drive and a plane comes down in the middle of the road?" Baumgarten asked, no doubt freaking out hundreds who live in the immediate area (or whose loved ones were flying in small planes that morning).

Here's the footage:
To cut Baumgarten some slack, at least something struck her as fishy in the moment.
"We don't see a lot of frenzied activity around the plane," she said, "so if there are injuries, maybe the injured parties have been taken to the ambulance already."

Anyone who has ever visited a film set knows that "frenzied" almost never describes the activity there.

The duped anchors were then enlightened through their earpieces.


"Ohhhh," Potash said.


"Are you kidding me?" Baumgarten added. "They might want to tell the news folks when they're doing this."

Following the broadcast, the Chicago Fire Department tweeted an alert that the scene was staged for the NBC show. A spokesman for the agency later told the Chicago Tribune that information about the faked crash "didn't get filtered down to everybody" due to lack of proper distribution. However, a spokesman for Universal TV said all the "usual protocol" was followed.

Who would you say is to blame for this? And should they keep their jobs?

"Chicago Fire" airs Wednesdays at 10 p.m. ET/PT on NBC.