FEATURED POST
Kardashian says, 'No Way, Kanye,' in latest 'Off Their Rockers' sneak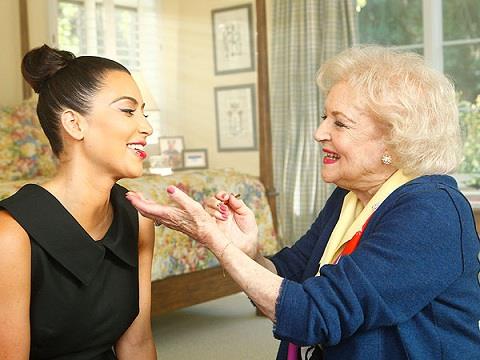 Ninety-year-old legend Betty White may have played a babe in the woods on
"Golden Girls,"
 but she looks pretty shrewd for welcoming Kim Kardashian to the Season 2 premiere of "Off Their Rockers." Kim K. is, of course, dominating Hollywood buzz since announcing that she and Kanye West are expecting a baby. 
In a bit of serendipitous timing, NBC has just released a sneak peek of the socialite's "Rockers" cameo. In the below clip, White informs Kardashian that they are in fact distant cousins, before musing aloud if that means they can share boyfriends -- something White would no doubt reconsider now that she'd inherit partial responsibility for raising West's kin. 
Not to worry. Kim quickly cautions her newly discovered,
several-times-remove​d
cousin, snapping, "Back off, Betty." We'd take that advice if we were you, Ms. White. After all, there are surely plenty of open-minded 30-something rappers seeking the comfort of women three times their age. This is 2013, after all.
Check it out for yourself:
"Off Their Rockers" Season 2 premieres Tuesday, Jan. 8, at 8 p.m. ET/PT on NBC.