FEATURED POST
President will discuss recent comments on same-sex marriage and more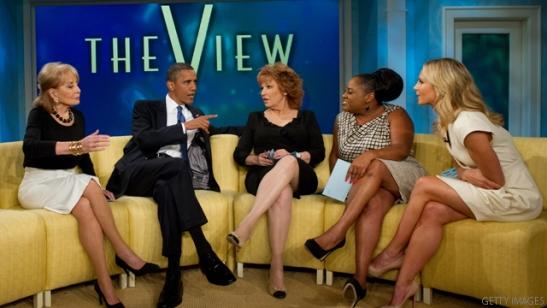 President Barack Obama is coming to the "The View" on Tuesday, May 15. The President's recent comments on same-sex marriage is sure to be a hot topic during his sit down with Barbara Walters, Whoopi Goldberg, Joy Behar, Elisabeth Hasselbeck and Sherri Shepherd.
Bing: More about Barack Obama | 'The View'
"It will be his very first interview since coming out in support of same-sex marriage," Walters said when she announced the visit on "The View." "I think we want to know what the reaction is, that he's had, especially since 30 states have bans on same-sex marriage."
Word is Obama had actually intended to make his big announcement during this visit to "The View." He decided to speak up sooner, however, after Vice President Joe Biden got ahead of him on Sunday's "Meet the Press," according to CNN.
Also: What TV shows are returning next season?
If that buzz is accurate, Biden's premature reveal was a boon for Robin Roberts, anchor at ABC sister show "Good Morning America." With a sudden push to get the word out, President Obama called on Roberts to break his big news May 9.  
"At a certain point I've just concluded that for me, personally, it is important for me to go ahead and affirm that I think same sex couples should be able to get married," Obama told Robins.
The President's appearance on "The View" is part of the show's continuing "Red, White & View" campaign, which is committed to bringing political guests and discussions to daytime. President Obama was the first sitting United States President to visit a daytime talk show back when he appeared on "The View" July 29, 2010.

"The View" airs weekdays on ABC.