FEATURED POST
Apparently, not everyone thought Ms. Lohan bombed in her big return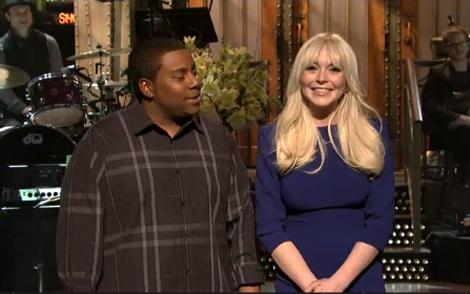 Apparently, hosting "Saturday Night Live" four times has made Lindsay Lohan part of the team. Why else would cast members publicly stand by her side following that absolute horror show of a performance this past weekend? 
Alas, both
Taran Killam
and
Bobby Moynihan
went to bat for LiLo after the episode wrapped.
People
caught up with the series regulars on Sunday, and despite almost universal consensus about Lindsay's lack of charisma, preparedness and comedic timing, Killam beamed that, "She was fantastic and really a good sport." Moynihan went a step beyond Killam's rehearsed graciousness and exclaimed, "She started throwing stuff in. It was a hip-hop morning-show sketch, and at one point, she just took the microphone and said, 'Preach!' I was, like, 'What? Go Lindsay!'"
While we appreciate Bobby and Tara's solidarity and kindness, Lindsay's backstage improv skills didn't exactly translate to deft hilarity in the live broadcast:
Although to be fair, it was a marked improvement over her showing during this "Scared Straight"-inspired bit, in which Lindsay missed more cues than a vision-impaired pool shark:
And the jury's still out on whether the beleaguered starlet or
Elizabeth Taylor
herself could have saved the dead-end material of this domestic-stalker segment:
Of course, if you agree with Killam and Moynihan and thought Lindsay demonstrated why millions of Americans should be moved to root for her career resuscitation, feel free to preach in the comments below.
"Saturday Night Live" airs Saturdays at 11:30 p.m. ET/PT on NBC.