FEATURED POST
Talk show maintains message while landing guests like Deepak Chopra
"The Jeff Probst Show" premiere week featured remarkable people living their lives in extraordinary ways, and the biggest name on the list was YouTube's "Three Golden Sisters." That didn't put the fledgling talk show in the ratings game, at all. In order to shake things up, Jeff Probst is clinging to his positive message to embrace life, while bringing notables like Deepak Choprah and TV celebrities like Emmy winner Jon Cryer ("Two and a Half Men") and Judge Judy into the conversation.
Bing:
More on Jeff Probst
 | 
Deepak Chopra
"The Jeff Probst Show" lineup for the week of Oct. 8, for example, featured stars from TLC's "Push Girls" talking dating, sex and pregnancy on Tuesday; spiritual icon Depak Chopra getting personal on Wednesday and "unconventional stars" Melanie Lynskey and Oliver Platt talking up their new movies on Friday, while also reflecting on achieving success in Hollywood against the odds, marriage and parenting. Probst also call in recognizable guests and TV notables like Fabio Viviani ("Life After Top Chef") for his segment "Guys on the Couch," in which the guys answer questions from women in the audience.
The show also continues to be peppered with everyday people surviving extraordinary experiences. This week's guests incuded a writer who was raised in a storage unit, a woman dumped by her bigamist husband via text, a gay couple struggling with adoption and a mother who works as a Violence Interrupter, stepping into the middle of gang conflicts every day on the meanest streets of Chicago. 
The episode featuring best-selling author Chopra, airing Wednesday, Oct. 10, however, marks the true crossover of Probst's efforts to combine positive message and celebrity power.
Chopra visited the "The Jeff Probst Show" with his son Gotham to talk about "Decoding Deepak," Gotham's new film about his father. The duo talked family, Twitter and more in an episode Prosbt aptly titled, "Son of a Guru: The Undisclosed Side of Deepak."
With his son Gotham by his side, the healing pioneer and author of over 65 books showed his more vulnerable side. Chopra also answered questions from the audience and clarified that he in not addicted to his Blackberry, per se.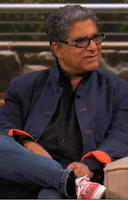 "My family is important, but you know, as I'm growing older, the only people that I'm really attached to is my grandchildren, right now" Chopra told his son. "You're grown up and you're on your own and you know."
Chopra confirmed the sentiment on "The Jeff Probst Show," telling Probst he doesn't feel the need to impress anyone but his grandchildren.
"That's why I wear the sparkly glasses and these are the shoes that I wear," he said, pointing to his funky red sneakers. "I want my little babies to think I'm cool."
It's no surprise the making of this film changed the father/son relationship.
Plus: Small-screen actresses who sing | TV's top secrets
"I learned a lot, and not only about my father," said Gotham. "It's funny, someone recently said to him, 'Oh I read your son did a movie on you,' and he turned to them and he said, 'No, my son did a movie on himself.'" 
"The Jeff Probst Show" airs weekdays in syndication.