FEATURED POST
What's up for Season 4 and our favorite Greendale student
By 
MSN TV
 Oct 17, 2012 10:19AM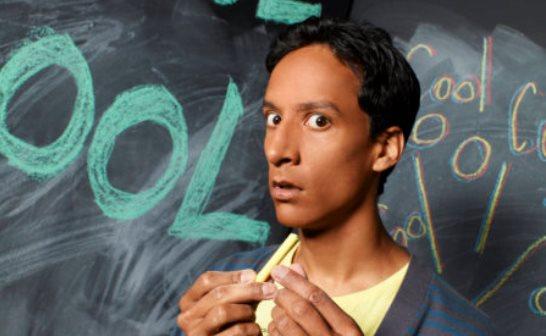 By Michelle Strub
MSN TV
The Season 4 premiere of "Community" has been put on hold for the time being, but we just couldn't wait any longer to get in our Abed-fix. We recently talked with Danny Pudi, who plays the Greendale student with a passion for film studies and an encyclopedic knowledge of pop culture, about the cult hit and where the gang is going next.
Bing: Danny Pudi | 'Community'
Danny – who is every bit as fun to talk with as you might expect – hinted at what graduation looks like for the Greendale study group and answered the question that has been on every "Community" fan's mind since Season 1: Will there ever be a Troy and Abed spin-off series?
Is Abed your favorite Greendale student? Tell us on MSN TV Facebook and Twitter.
MSN TV: Hi, Danny. Thanks so much for talking with us. Let's jump into it! What can we expect to see on "Community" this season? What's going to happen with graduation? And random question, will we ever get to see Beverly D'Angelo guest star, reuniting her with Chevy Chase?
Danny Pudi: Oh, wow, I actually would love to see that. [Laughs] That's a great suggestion. I would say, "antics" with a lowercase a, "antics" with an uppercase a and "antics" with the entire word caps locked.
All right!
Actually, I don't know. It's Season 4, so I kind of think right away that we're addressing that it is senior year at Greendale. In terms of the arc of the show, it's nice to get to a Season 4 and I think we were all hopeful. And after this year [see offscreen drama: Chevy Chase feuds with producers, Dan Harmon gets fired], I think that we're just all thankful to see what it's like for these students who have been at Greendale for four years. So that is something that we address right away and, um, we haven't seen Beverly D'Angelo yet, but I will definitely let you know when she's around! We have some other great guest stars: Malcolm McDowell, Matt Lucas, Tricia Helfer.
We do an episode where we get to go to an Inspector Spacetime convention, which I think was such a treat. In some ways it's a little gift to all of our fans for supporting us and Inspector Spacetime and bringing that to life. For all the fans of "Doctor Who" out there, I think they'll get a kick out of this one.
And, you know, we meet Jeff Winger's dad early on in Season 4. I think the great thing about our show is that through each season, there have been multiple episodes where if you just describe it, it sounds painful and confusing and emotionally heartbreaking – like in Season 1 when Abed's dad comes to school and he makes a video explaining that his parents don't understand him and you want to cry – but somehow it's funny.
"Community" does a really good job with that: making commonly difficult situations funny and lighthearted.
Yeah, and I think we need both. I think that's what our show needs. In order to have the funny we really need to have the grounded, heartfelt moments into each of these characters that shows what they're going through and what they've been going through. And I think that's what makes these characters more relatable, too.
Absolutely. Do you think you'll be doing anymore "themed" episodes this season (i.e. the 8-bit video game episode a la Season 3)?
Not so much. Our Halloween episode does have sort of a nice traditional the-Greendale-gang-g​oes-on-a-mission feel to it. It's very true to our "Community" Halloween episodes, which I really like. There's definitely something that happens in terms of the study group, and we all have to get together to figure it out. So, uh, I'm excited about that, you know. In terms of other themes, we've talked about the "Hunger Games" a little bit in our first episode. So that's one thing that we're touching on.
That'll be interesting! Can't wait to see how that plays out.
Yeah! There are some pictures on the Internet of Dean Pelton preparing for it, so if you want to be inspired, take a look at that.
Yikes, we will for sure! OK, we have to ask: Is there any chance of a Troy and Abed spin-off for TV?
[Laughs] I don't know. I highly doubt it. I tell people that it would be the most obnoxious show ever. It'd be much like an episode of "Double Dare" where everyone is just doused in weird stuff. Most of Troy and Abed's stuff is just weird and strange. I mean, they literally walk around campus with two suitcases full of tacos for no reason. So, uh, it would be a show where I don't know if anyone would really get it. I think I'd highly enjoy it but no one would get it. I think if "Community" is barely getting ratings, then a Troy and Abed spin-off would probably get maybe six to seven people watching.
You might be surprised. There is definitely a cult following. We'd watch!
Thank you! Thank you! Now I know you and I know my mom would watch. I would probably watch. [Laughs] But, no, that's the one cool thing about the show. It does have this devout fan base that's kept us going strong.
So what's going to happen post-graduation and maybe post-"Community"? We know you're a relatively new dad to twins, so that's keeping you busy, and we also see that you're a spokesman for Speedstick's "Handle It" campaign? Can you tell us more?
I'll start with Speedstick. We're working on this campaign right now, which has been really fun. A couple of months ago they came to me, and we have been reaching out and asking guys to tweet their funny, uncomfortable situations that they've been in where they've been able to conquer them and have managed to keep their cool under pressure. It can be anything, and it was under hash tag #handleit. It's been really fun to see the different stories they've been in. One guy told us about being on a beach and playing Frisbee and hitting a lady in the head and pointing to a child next to him and blaming it on the child. I thought that was great. I'd love to witness that. Do you rat on the guy? Do you do that? It also depends on the child. Will the child be young enough to remember it? So it's like those kinds of moments, which I love.
So we picked one winner, and the video is now live. We made his story into a video and I narrated it and did a voice-over. And in that story, a gentleman shrunk his girlfriend's laundry and convinced her that it now looks even better on her. So kudos to him for being crafty and convincing with his words. So, yeah, that's on www.youtube.com/spee​dstick. That's the one project.
And, yeah, had babies about eight months ago. Um, they are incredible. Highly entertaining. I am immediately -- I have more empathy for all parents of the world. Both my wife and I have tennis elbow, and we don't play tennis. [Laughs] It's been pretty incredible.
So I have that going on, and on top of that a couple of buddies and I just put together a little Web series called Book Club for the YOMYOMF YouTube channel. That was fun! It was just sort of a side project that I had fun working on. It's called the Book Club and it's on YouTube every Wednesday.
We'll have to check that out!
Yeah!
Well, any last words for your fans out there?
Thank you, thank you, thank you! Again, lowercase t, uppercase t, caps lock across the board for giving me a job and letting me do what I love every day. I appreciate it and love you!