FEATURED POST
A new mom, a new man, the same taste for vengeance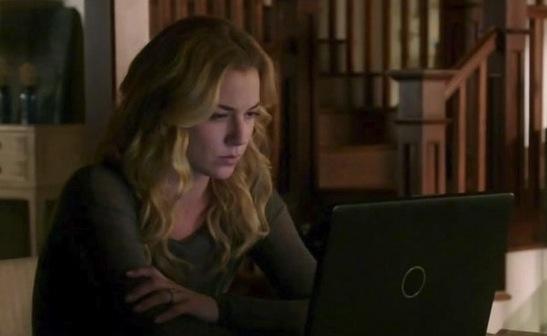 "Revenge" fans and Emily Thorne were thrown for a serious loop in the show's first season finale. After a very pregnant Amanda Clarke stomped on Emily's big reunion with Jack, Nolan showed her a tape that revealed her mother might still be alive after all. There was also an explosion that took out villainous Victoria Grayson, along with all the evidence that would exonerate David Clarke. Fans can't imagine that was really the end of the Queen of the Hamptons, but Madeleine Stowe wasn't on set when MSN TV visited Grayson Manor. Emily VanCamp hedged that topic, of course, but opened up about Emily's new mom, new man and new outlook in season two.
Bing: More about "Revenge" | Emily VanCamp
For the sake of clarity, in this Q&A MSN TV will call VanCamp's character Emily, as that's the name she hides behind, while letting Margarita Levieva's pregnant troublemaker keep the name Amanda.
MSN TV: That finale was such a game changer. Will viewers get to watch the rest of the video Nolan showed Emily?
Emily VanCamp: Yes, you see some of that. It becomes a lot more clear, but a lot more complicated at the same time. When we come back to Emily in season two, she has left the Hampton's for a while and is trying to refocus and figure out what she actually wants now. She has so much information now, [including] all this information about her mother. It's almost inspired a new quest for her to find her mother and establish a relationship with this person, if she is alive. And with Emily Thorne, she has the tools to make that happen. No matter where the mom is, she can find her.
What did you think you heard Emily's mom might be alive?
I was so excited. The relationship between daughter and mother is so interesting in a semi-normal family, let alone for Emily Thorne/Amanda Clark's family! Emily's mom is not going to be the most stable of characters and when you think about mental health, young women often come into those kind of difficulties in their 20s, so it's very possible this will affect [Emily's] psyche. "How crazy am I? Am I following into these footsteps?" It will be a great way to explore her behavior.
What are your thoughts on Jennifer Jason Leigh taking the role?
I couldn't be happier. The one thing that is so exciting for us is that we have Mike Kelley [at the helm], who is constantly making sure it's about quality. It's not always about getting the most famous person. It's about finding someone incredible, and that's what he's found. I just met her for the first time the other day and it was really odd, because there's a pretty strong similarity there, in terms of our physical appearance. It's just one of those odd moments, when you meet the woman who's playing your mom for the first time, especially after having played this character for an entire year.
When will Emily come face to face with her?
I think fairly shortly.
Another big shakeup was Amanda's baby bump. Can you tell us about that pregnancy?

Margarita's here with a belly! She's still pregnant, so who knows what's going to happen. I certainly want to know if Jack's the daddy or not!
Ultimately, is Emily meant to be with Jack?
That's a given. That's a massive part of the heart of the show. He represents everything good in her. He was the one person she was willing to sacrifice this entire quest for, so there's deep love there. I don't see it happening any time soon, with how season one ended, but I absolutely think they are meant to be together.
Since she can't be with him now, will she return to playing games with Daniel?
I can say that there's a new love interest - someone that was part of her life during that period when she went away to study. [He] will be coming in to challenge her. I haven't met [portrayer Barry Sloane] yet. He's still in England, but that's going to be an interesting relationship, because they had a grown up relationship. With Jack it's very nostalgic and with Daniel it was very manipulative. This is someone she really cared about, and then he betrayed her and was one more disappointment in her life. It's going to be fun to play that out, and you meet him in the first episode. We don't keep people waiting to long.
What do you make of fans who are rooting for Emily and Nolan?
I find it a little weird, because the way it's been played is on a brother/sister level. They share this great connection, which is the love of her father. I find it hard to imagine them together, but Gabe [Mann, Nolan] might say something different. He's always rooting for them. I love who they are together and don't think they could have this great relationship if they were love interests. I think most people are rooting for their amazing friendship and want me to be nicer to him, so I try!
This show could have been really cheesy--
And it walks that line still! But the campy element of the show is what makes it so appealing, because we balance that with great stories and unbelievable writing and cinematically, this show is phenomenal. Mike is so diligent about finding that balance with the character, finding just enough campiness, depth, fluff and vulnerability. It's this perfect recipe.
A key ingredient of that recipe has been the tension between Emily and Victoria. What it is like playing off Madeleine Stowe?

It's amazing! I don't think either of us knew how we were going to play it, but it all fell into place. This very subtle, evil quality inhabits each scene we have together and yet it's very fluffy and very light and smiley. It's an interesting dynamic and we go there! Why not? You have to embrace what the show is and commit to it.
Is Emily any better than Victoria or the rest of her marks?
I'm biased. I say absolutely. She's taking down some pretty horrendous people who have done horrible things to innocent families. There's a heroic side to it. Where her guilty conscious comes in is where the collateral damage starts happening. You see people she loves suffering at the hands of what she's doing.
Can "Revenge" bring Emily happiness?
As much as she behaves like a sociopath, underneath that shell is a vulnerable, hurt, angry young girl who ultimately wants to rid herself of those feelings. She comes dangerously close to wanting to reveal her truth, but I don't see an end quite yet. When Jack became an impossibility in her life, it numbed that human side of her again. She's back in her sociopathic behavioral patterns.
The tragedy of this show is that everyone can find peace, but [what bout the] collateral damage along the way. Mike Kelly always says the end will be Victoria and Emily standing there in a sea of bodies. Did you really find peace?
Does that mean Victoria will survive the airplane explosion?

It's a possibility, but she's not here right now, so I can't tell you! That was his initial plan. The other thing to think about is that there are several other villains that are becoming part of the show and will become an integral part of the show as well, so it's hard to say.
 "Revenge" season 2 premieres Sept. 30 at 9 p.m. ET/PT on ABC.