FEATURED POST
'Homeland' star wants people to leave her alone when it comes to her facial expressions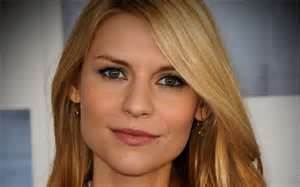 Claire Danes is annoyed.
Entire memes and YouTube videos have been dedicated to her not-so-attractive "crying face," a trait that came to light when she impressed the masses on "Homeland."
Bing: More on 'Homeland' |  Claire Danes
Danes' friend, fellow actress Anne Hathaway, even spoofed the expression when she played Danes' "Homeland" character, Carrie, on "Saturday Night Live." The running joke during the spoof? "It's like her whole face is chewing gum." Hathaway apparently apologized in advance and sent Danes flowers afterward as a conciliatory gesture.
Plus:  Canceled or renewed? | Biggest TV interview reveals
"I mean, I'm vain about giving the best possible performance I can give, but I'm never concerned about how, you know, physically desirable I'm going to be in the process," Danes said in the February issue of Elle. "In my personal life, I have plenty of vanity, but onscreen I'm not representing myself. I'm representing this person I'm playing. I have to say, I find it very odd that it's been sort of objectified.
"It's just the way feelings register on my face. It's not calculated; it's not an aggressive gesture. It's been isolated from the rest of my work, like it's a tacked-on thing. It's not."
Hopefully in time, Danes, 33, will lighten up about the public's digs at her "crying face." Without realizing it, her annoyance only makes the whole thing funnier. 
In the meantime, she has her Golden Globes (she won her fourth one Sunday), Emmys, a handsome husband (actor Hugh Dancy), a new baby boy and a hit show to keep her smiling. The third season of "Homeland" will begin shooting in May.
"Homeland" returns Sunday, Sept. 29, on Showtime.