FEATURED POST
Actress said if 'New Girl' were a movie, she might've been overlooked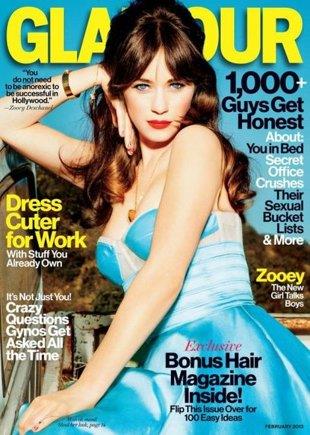 If "New Girl" were on the big screen, Zooey Deschanel said she wouldn't be the star because movies are more restrictive.
"Some of the smartest people run the network I'm on," Deschanel, 32, said of her FOX bosses in the February issue of Glamour. "I'm proud of what I did in film. But getting to do the stuff that I was passionate about was such an uphill battle. If 'New Girl' had been a movie, I don't know whether I would have been given the opportunity to do it."
Bing: More on 'New Girl' | Zooey Deschanel
Deschanel also used the article as a platform to fire back at critics who have been trashing her girlie ways and "adorkable" persona ever since "New Girl" became a hit. The sitcom returns with new episodes Tuesday, Jan. 8.
Plus: TV hipsters we love | Crystal-balling the Golden Globes
"I'm just being myself," Deschanel said. "There is not an ounce of me that believes any of that crap that they say. We can't be feminine and be feminists and be successful? I want to be a f------ feminist and wear a f------ Peter Pan collar. So f------ what?"
Deschanel went on to say she pities writers who have made careers out of criticizing her style and accomplishments.
"If you are tearing down somebody who has forged her own path just for wearing a tiara, rethink your priorities," she said. "I never stop myself from doing something because I'm afraid of what people might think."
"New Girl" Season 2 airs Tuesdays at 9 p.m. ET/PT on FOX.