FEATURED POST
Redaric Williams talks Tyler and Cane's steamy sauna showdown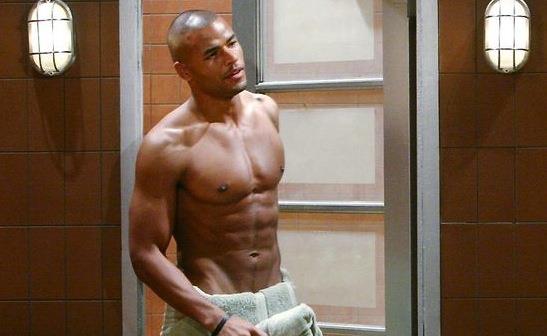 "The Young and the Restless" has been decorating Genoa City with a bevy of new hunks for the holidays. On Monday, Dec. 24, Christmas comes early for viewers: Cane and newcomer Tyler (Redaric Williams) strip down for a sauna showdown! During the episode, Tyler will also reveal which Genoa City leading lady has caught his eye. MSN TV got the story from Redaric Williams, who teased what we can expect from Tyler and Monday's steamy scenes.
Bing: More about "The Young and the Restless" | Redaric Williams 
MSN TV: First off, that is one hot preview picture (above).
Redaric Williams: A picture's worth a thousand words. And I think I got a thousand in there!
There's been a lot of buzz lately about all the new hunks moving to Genoa City: Does being sold that way make you uncomfortable?
Not at all. Very few actors invite that. That's not something I coveted. (laughs) But I'm not taken aback. It's nothing new to be portrayed that way, because I've been modeling for a while. I'm an actor first and foremost. I moved to New York City for acting. I trained and performed, but New York is theater and fashion. I had so many people approach me about modeling. I never was into it, but finally, I went ahead. I started doing a lot of modeling, and you've got to portray this sex symbol. You've got to exude that. So it's not a new experience. 
Plus: Entertainment BFFs | Best and worst shows of 2012
This is your first regular role, and you've hit the ground running. How has the adjustment been?
I was ready for it. When I first met with the writers, I told them straight up, "I'm at the point where I'm ready to bite off something and sink my teeth into it." I'm not going to shy away from that.

That's funny, because that's how your character Tyler comes off! How is he settling into Genoa City?
I know. (laughs) It's crazy. The character is new in town and I myself am new in L.A., so there's a correlation. It's a process, but nothing rattles Tyler. He's someone who's been seasoned by life. He's been through a lot. He's dealt with a lot. Myself, as well. A move is a move. It's good. It's welcomed.
Has anyone helped you get settled in at work?
To be honest, I haven't come across one person who hasn't gone out of their way to be helpful. But Kristoff St. John (Neil) is huge - really helped out a lot. Angell Conwell, who plays my sister Leslie, has also been helpful.
So none of the guys are nervous about having a new hunk on the scene?
Ah! (laughs) Possibly. I wouldn't know. I don't get in their heads.
Tyler made quite the first impression on Neil. He controlled the conversation at that breakfast. Should we be wary of this guy?
He's a very strong presence and he can be like a bull in a China shop, but the thing is, he's not. He's controlled. He has an agenda. He's not reckless. He's not just there to wreak havoc. I am totally looking at him as a good guy. He's not a bad guy, whatsoever.
As a street artist who's transitioned into a guerrilla marketing guru, can Tyler handle the button down world of Jabot?
He is fully capable of adapting to any social situation. He can be a social chameleon. However, he has this rebel thing. He's not a conformist and he will push the envelope to see how far he can get his environment to conform to what he brings to the table. If there's resistance met, maybe he'll find other ways to see what he can do.
He seems like a cocky dude: Does he think he has this Jabot job in the can?
Definitely! It's a fine line - like razor thin - between confidence and cocky. He's very confident because he knows he's competent. If it comes off a certain way - which is does! - then you'll see he will pull back. He doesn't want to come off as cocky, but his confidence can sometimes be taken that way.
He definitely rubs Jabot's Chief Operating Officer and resident hunk Cane the wrong way: What can you tease about the big sauna run-in?
I come in and Cane's there, trying to come down after a day at the office. My character is doing the same, but it creates an opportunity. Cane's less receptive to the way Tyler comes in unrelentlessly. Tyler's not worried about what anyone thinks or feels, and it rubs Cane the wrong way. Cane is telling him to tone it down a notch, while Tyler is trying to make a connection. On the flip side, we're not so different. The stuff he's throwing at me, it's kind of there on his side, too. So Tyler tells him to look at himself.
It's a very masculine scene. It's two guys with their shirts off. There's a bit of an argument. But there's also a mental thing going on. Their conversation covers a multitude of things. It's almost like a chess game, with these guys going back and forth.
Could these two become friends?
These two guys are either best friends or the worst enemies.
In that same episode, we learn which lady Tyler has his eye on: How serious is his interest?
He's flirting. He's interested, but it's not that serious. This guy is the new guy in town. The sky's the limit and he's definitely a flirt. I don't think he's ever been in a situation where his flirtation or interaction with a lady has led to something deep and genuine. But if cupid was shooting an arrow in his direction, I don't think he would try to move away, either. If he feels something that's real, he would embrace the realness. He wouldn't run. He's developing, as a human being. He's coming of age. He's a man. And he's now in a new environment…
What excites you most about Tyler, going forward?
His versatility. I've done work in the past where you show up to film and it's not a prolonged thing. This is a journey. This is a character that's going to unfold and it's going to be a while. The fact that he is a versatile individual, without one set way, that's what I like. He's somebody that's playful, but then he can also be an aggressor and as I said, he's very capable of handling himself in this new corporate situation. He's polished, but he came from the other side of the tracks, so he has that side as well. He can go anywhere.
"The Young and the Restless" airs weekdays on CBS.