FEATURED POST
Judge Judy still reigns supreme in court TV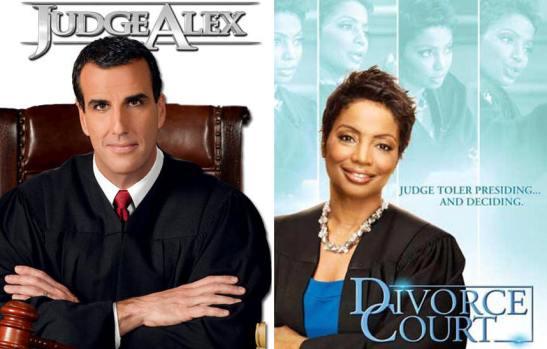 20th Television has renewed "Divorce Court" and "Judge Alex" through the 2013-2014 season. That's two more years in session for the Honorable Lynn Toler and Alex Ferrer.
Bing:
More about "Divorce Court"
|
More about "Judge Alex"
"Lynn Toler and Alex Ferrer are incredible personalities and legal stars ruling on the bench and in the ratings," announced Paul Franklin, EVP & general sales manager for Twentieth Television. "We are thrilled they will continue to preside over their successful television courtrooms with both compassion and strength that their viewers admire."
Judge Toler presides over television's longest-running court show, "Divorce Court," while Ferrer's "Judge Alex" is in its seventh season. Both shows have been cleared in 75% of the country, including the Fox Television Stations in New York, Los Angeles, Chicago and Dallas, for the upcoming season. They are also set to return to Tribune, Sinclair, CBS, Local TV, Belo and Newport stations.
According to the release, this season, "Divorce Court" and "Judge Alex" are the only television court programs to deliver 3 months (Oct. - Dec.) of consecutive growth with households, growing 14% and 13%, respectively. Additionally, in December "Judge Alex" hit a 41-week high, maintaining this rating through the New Year.
Of course, with tough as nails Judge Judith Sheindlin on contract through 2015, "Judge Judy" still remains not only the courtroom show to beat, but also the syndicated program to beat, along with "Wheel of Fortune."
"Divorce Court," "Judge Alex" and "Judge Judy" air weekdays in syndication. Check local listings.