FEATURED POST
'Days of Our Lives' drama and 'Biggest Loser' tips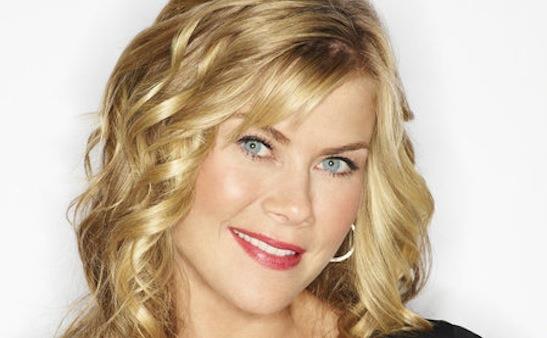 The week of Jan. 7 was a big one for Alison Sweeney. The daytime veteran celebrated 20 years on "Days of Our Lives" while launching the 14th season of "Biggest Loser." With the hotly contested SAFE/EJAMI love triangle back in full swing, soap romance and Sweeney's history was a hot topic. First, however, Sweeney talked about the reality of losing weight and gave us a peek at her DVR.
Bing: More about 'Days of Our Lives' | Alison Sweeney
Your fans tune in to two different kinds of programming to stick with you: reality TV and soap opera. What does your DVR say about you?
My DVR says that I watch a lot of TV my husband likes. (laughs) It says I like shows that are uplifting. We watch a lot of Discovery Channel, shows like "The Biggest Loser" and even "Amazing Race." You learn a lot about the world, it's fun and nobody's interested in beating anybody down. And then the opposite: I'm a huge fan of "Survivor." I'll admit, my guilty pleasure is "Downton Abbey." It's like actor porn. It's so good! The dialogue, the wardrobe and all of it!
Plus: 10 things guaranteed to happen on 'American Idol' | TV's 'it' girls
What can we expect from this season of "Biggest Loser"?
Obviously, everyone's question about whether having kids made Jillian soft was answered [in the premiere]. You don't need me to tell you that the answer's no! What's so special about our show is that you don't have to be the best at something. Jackson struggles with vomiting at every moment, but you have to try and you have to want to be there. That's the secret to weight loss.
No matter where you are, what your life is or how you're doing it, you have to want it deep down in your core. You have to think you're worth it and love yourself enough to want to be healthy. People think, "Oh, I'm loving myself by sitting on this sofa for four hours." Love yourself enough to get up! It's hard, but start making positive choices - one and then another - and all the sudden, you do want to take care of yourself.
How have the kids shaken up the "Biggest Loser" game?
They're not on campus everyday. But when they're there, it's so inspiring. It's so important to have them remind us all why we're doing this. We're not putting them on the scale, but you can see the transformation - physically and in their energy, their psyche and their smiles. It's important to encourage kids to take responsibility. We're talking about family dynamics as well. The whole family has to make a change. You can't expect a kid to do it on his own.
How have you inspired your own kids to have the right attitude?

The first thing I've done is explain it to them. I don't know why we have to pretend it's not happening. I don't want to develop a psychosis, but it shouldn't be a secret that sugar and fat make you gain weight and make your body feel bad.
If you're going to play the Lightning McQueen metaphor: He puts the best fuel in his tank so he can go super fast. For you, that's your veggies and water and stuff like that. I've found it to be successful. They don't argue with me about it, because they know it's math. It's not a negotiation.
20 years and counting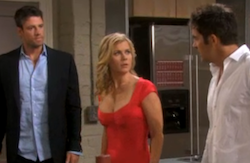 Looking back on your 20 years on "Days of Our Lives," what's been your favorite storyline?
The whole Sydnapping arc, from getting pregnant with EJ's baby, going on the run and falling in love with Rafe to exposing what Nicole and EJ did, keeping Sydney away from her. When you think about how long that went on and how good, true and interesting it was the whole time, it was a great story.
The loss of Grace was a major turning point in Sami's growth and maturity level. Even now, she's still Sami, but it's different. Obviously, Sami's been through a bunch of different writers, but it worked out. Jim Reilly laid the foundation of this character and it was clear and true. It sank in deep, so that every writer that came after fell on those same building blocks. It's paid off. I feel very blessed.
After 20 years of drama, is there anything Sami hasn't been through yet?
For a long time, my answer was that I wanted her to be loved and find real happiness. In some ways, she's had that now and let it slip through her fingers. I have to say, up to this point, they've still never really told the EJ/Sami story. I've always sort of wondered how that would go. There's this huge fan base for something when they've never actually been together. They've dated and danced around each other and there's always been this pull between them, but she never really gave him a shot. It would be interesting to see.
Sami has been thrust back into the SAFE/EJAMI triangle, again. Within the week of Jan. 14, alone, she's gone from one to the other: Will either Rafe or EJ finally get the girl soon?  
They have been really torturing the fans! (laughs) I don't know if I'm supposed to say this, but yes, someone is going to - dare I say? - win. You are going to see Sami making a decision. I'm happy about it. We shot this four months ago, but now it's great to see the fans' reaction.
You always play it so cool when we try to get you to weigh in on which side of the triangle you favor. 
I'm good right! I get a lot of crap for how I won't step up and say what I think. I promise some day, when nobody cares anymore, I will buy everyone a drink who still wants to know and tell them how I really feel about everything. I'm a company girl! 
I'm a fan of a certain show and something came out about the actor that affected they way I feel about the show. It reminded me why it's so important to keep my opinions to myself and let the audience feel it. No matter how you feel, I think it would affect how you perceive the story and I would hate that.
Let me ask you this then: Without saying whether Sami makes the right choice, are you happy with the way the story is going to go?
Yes. I'm very happy with where story's going. It's a fascinating storyline. It's fun, exciting and interesting!
"Days of Our Lives" airs weekdays on NBC. "The Biggest Loser" airs Mondays at 8 p.m. ET/PT on NBC