FEATURED POST
The morning-show ratings war continues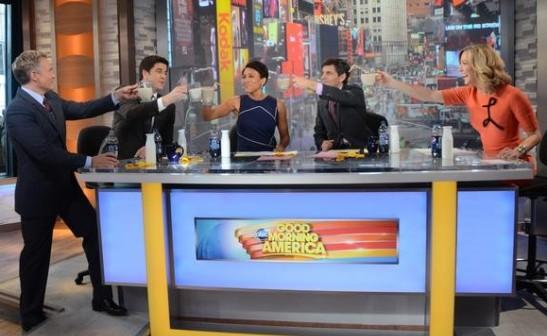 The early morning infotainment war has heated up to a volley. After "Good Morning America finally smashed "Today's" 16-year ratings reign two weeks ago, "Today" took back the crown for the week of April 16. Now, "GMA" has countered with another win, beating "Today" for the week of April 23, while also taking the first day of May sweeps, according to early numbers.

Bing: "Good Morning America" | "Today"

The crown will return to "GMA" once again, according to Nielsen Fast Nationals. ABC's early morning team scored 5.297 million viewers the week of April 23, for a 166,000 lead over "Today." The NBC morning crew still maintains its 16-year streak with viewers 25-54, but that lead is shrinking, as well.

This second "GMA" win reflects higher ratings on Tuesday, Wednesday and Thursday, with Thursday being the start of the May sweeps. It also reflects a much healthier lead over "Today" than in the first win, which was a mere 31,000 viewers.

Also: What shows will be returning next season?

Matt Lauer's "Today" show vacation was cited as a major factor in the first "GMA" win. Interestingly, however, Lauer was on hand for all three of the "GMA" wins this time, but not on Friday, when "Today" won without him being in the house. 

Final ratings will be released Thursday.

"Good Morning America" and "Today" air weekdays at 7:00 a.m., ET/PT on ABC and NBC, respectively.