FEATURED POST
Check out how these daytime divas look without their glam squads
With so much talk show competition 
launching
 Monday, "The Talk" hosts took it all off for their season 3 premiere, taking the stage in white robes and zero makeup. Soap divas Michelle Stafford, Melody Thomas Scott and Katherine Kelly Lang and big screen star Jamie Lee Curtis also got in on the action, which included before and after pictures.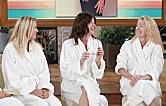 Hosts Julie Chen, Sharon Osbourne, Sara Gilbert, Sheryl Underwood and Aisha Tyler didn't just lose the makeup, lashes, clothes and, in Underwood's case, wig. They also put their unpainted selves side by side with the beautified versions daytime fans are used to seeing.
The three soap opera vixens also went bare, as seen in the clip below. Take a look at how Michelle Stafford (Phyllis) and Melody Thomas Scott (Nikki) of "The Young and the Restless" and Katherine Kelly Lang (Brooke) of "The Bold and the Beautiful" look before they hit hair and makeup every day.
Underwood cracked a few jokes and Gilbert admitted she was nervous, but the soap divas had no issue with their big reveals. Scott noted she's often played scenes au naturel and as fans know, she has often taken Nikki to dark places, looking worse for ware when story dictates. Stafford and Lang revealed they usually go out into the world without makeup, anyway. 
Osbourne, of course, had a bit of a leg up over the whole crew, thanks to plastic surgery and permanent makeup.

Monday's makeup free premiere was preempted by the 2012 U.S. Open Tennis Men's Championship in the Pacific Time zone as well as several Mountain Time zone cities. The full episode is posted on TheTalk.com. It will also re-air Tuesday, Sept. 11 at 10:00 a.m. PT. Check local listings for Mountain Time broadcasts.
"The Talk" airs weekdays on CBS.