FEATURED POST
Production company Endomal USA to take on scripted dramas and a syndicated talker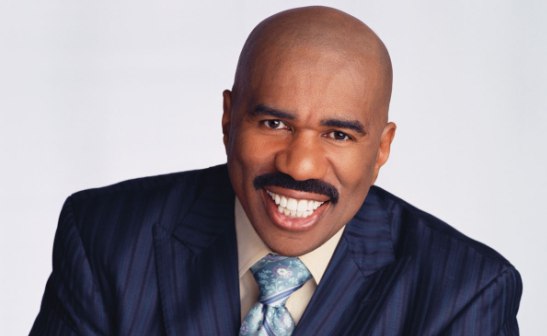 Steve Harvey is throwing his hat into the ever-crowding daytime talk show ring. Between "Anderson," "The Chew," "Dr. Drew's LifeChangers," "The Revolution" and upcoming talkers from Katie Couric and  "Survivor" host Jeff Probst, it's getting hard to keep track of who's coming to daytime, these days!

Bing: More about Steve Harvey
Funnyman Harvey has teamed up with Endemol USA to develop and produce a new syndicated talk show for fall 2012. While this will be Harvey's first daytime talker, the funnyman is no stranger to morning talk or daytime TV. He already hosts the country's top-rated nationally syndicated morning radio show, "Steve Harvey Morning Show," and after he took over hosting duties on "Family Feud," the game show grew 55% among daytime's key audience, women 25-54.
"This is one of my unconquered ventures," Harvey told Broadcasting & Cable, who broke the story. "It's something I always wanted to give a shot at. I always felt that it would fit into my forte. I've gained a lot of experiences over the years sitting on a lot of talk shows. My radio show has gone on at the national level for about seven years. With all of that experience and the success of the book and 'Family Feud,' I think now is the right time."
The book Harvey referenced is 2009's "Act Like a Lady, Think Like a Man: What Men Really Think About Love, Relationships, Intimacy and Commitment," which is currently being developed for the big screen. Harvey followed his first self-help manuscript with "Straight Talk, No Chaser: How to Find, Keep, and Understand a Man." Now, he intends to bring those ideas to the boob tube.
Bing: More about 'Act Like a Lady, Think Like a Man'
"I think it's an interesting angle to have a guy in daytime television who's actually built his platform around not only being funny, but also being empowering and insightful for women," Harvey said. "I hope to offer women an interesting take on a lot of different things from the male perspective, and I also want to be empowering to people and give them great information. It's a triple threat combination."
Word is Harvey's show will be less celebrity driven than the usual daytime talkers, but frankly, that's what all of the shows set to launch over the next year are saying.
This isn't the first time Harvey has played with the idea of getting his own talker. Back in 2004, there were rumblings that he was in contention to replace "The Sharon Osbourne Show" or "Living It Up with Ali & Jack," but that was never confirmed.

The news that Harvey has now teamed up with Endomal comes just a day after the announcement that the reality powerhouse behind "Big Brother," "Deal or No Deal," "Fear Factor" and "Wipeout" is adding original scripted series to their bounty. The new effort so far includes developing the Western "Hell on Wheels" for AMC and holding exclusive rights to TV Land's "Hot in Cleveland" and "Happily Divorced," as well as the TNT's "Leverage."
"We go after things that we think make good television and then figure out where they are going to be," David Goldberg, chairman of Endemol North America, told Broadcasting & Cable. "It isn't like we've been going out and taking tons of meetings so we could go out and get into syndication. We saw Steve Harvey as a huge talent, and thought that was a logical way to get into this business."