'Amazing Race' Exit Interview: Zev and Justin
Our weekly chat with the eliminated team from "The Amazing Race"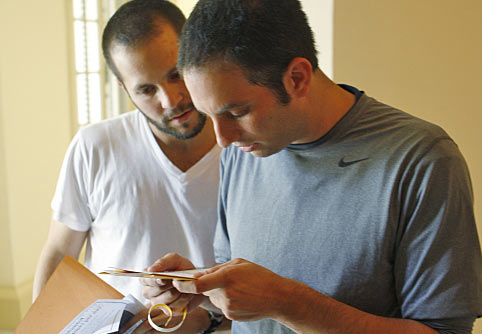 Zev Glassenberg and Justin Kanew were shaping up to be one of this season's favorite teams on "The Amazing Race" -- until a missing passport led to an upset loss. Back home in California, the guys chatted to us about the ultimate documentation debacle, their fans in the Asperberger's community, and the rumors about a second chance at a future in TV.
MSN TV: Guys, devastating way to go out.

Justin: It was a really tough thing to deal with, especially when I realized it was my fault.


Zev, how did you deal with that?

Zev: It was really hard, but it's one of those things you can't really control.

Justin: Zev fairly immediately forgave me. I think he could tell how awful I felt. He was a good friend about it. He knows I didn't do it on purpose.


You broke the hearts of a lot of people last night.

Justin: We've been getting such amazing support. It's been overwhelming -- without a doubt that has made what happened so much easier to take -- especially the letters from people with children with Asperger's.

What have they been like?

Zev: People have been writing me emails and telling me their stories, and Justin's writing back.


Justin: We got one email from a woman with a son who has Asperger's—he's 10, and she wasn't sure if she should tell him. We responded to her, and she got back to us with this really long, unbelievable email about how she broke the news to him—by telling him he was like Zev. And [her son] said something amazing, that it felt like he'd been putting together a puzzle, and this was the last piece. That's been amazing.

What were the most amazing parts of the race for you?

Justin: Watching Zev with those ducks. It was an incredible moment. He was just a magician with those things.

Zev: Nothing in particular -- just everything, mashed up.

Did you ever want to quit?

Zev: Every morning I woke up. I got very overwhelmed, 15 minutes before we were getting on the mat to start the race.

Did you ever think your friendship wouldn't survive the race?

Zev: We knew going on this it would not break out friendship—28 days couldn't break our friendship.

Justin: It's not like we're colleagues who work together a few hours a day—we've been friends for six years.

What was the first thing you did when you landed in the U.S.?

Zev: A shower.

Justin: And laundry was nice.


Will you be back out traveling the world soon?

Zev: The world is out there for us to see.

Justin: There's so much out there—once you get beyond the daily grind, it's a pretty amazing place.

There are plenty of rumors out there that you guys have been approached to star in your own show. Confirm or deny?

Justin: We've had some conversations, and we're open to anything right now. Right now, we'd just love to keep going. 

Check back each Monday for a conversation with the eliminated "Amazing Race" team.